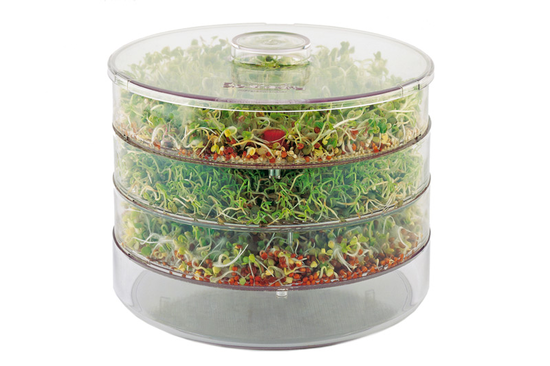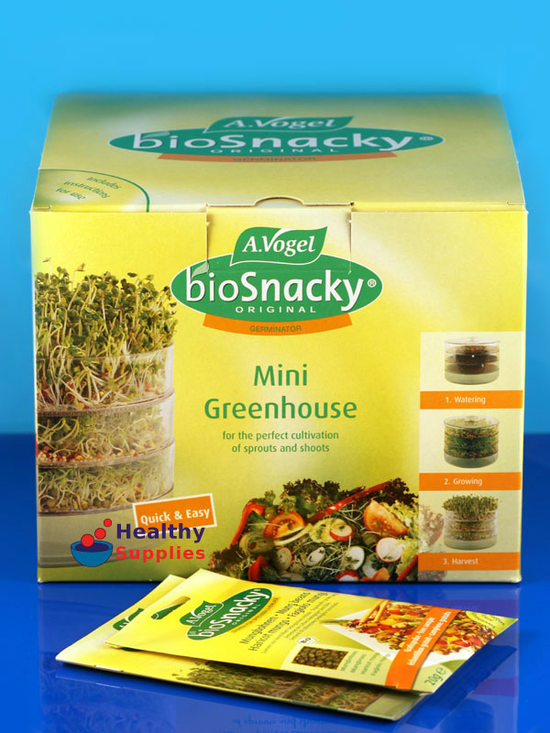 BioSnacky Bioforce 3-Tier Mini Greenhouse (A.Vogel)
This product is temporarily out of stock.
Sprouting Micro-Farm! Multi-cropping - just add water!
This large germinator allows you to germinate 3 types of seeds at a time and/or have 3 consecutive harvests by staggering the sowing of seeds.
It is very easy to use. You just have to remember to water your germinator twice a day. This can be done once in the morning before going to work/school/college and then once in the evening when you return.
Mini Greenhouse Kit Consists of...

3-Tier Germinator - fully washable, eco-friendly, food safe glass acrylic. UV-resistant. Dishwasher safe to 85 °C. (Place in top rack only.)
Full instructions.
Growing guide to different seeds you can sprout.
x1 pack of Organic Mung Beans.
Instructions for Use:
Place the clean germinator on a level surface and make sure the red siphon caps are sitting correctly on the drainage pipes. Stagger the red siphons so they are not sitting under one another.
Rinse your seeds and spread them onto each tray.
Pour around half a litre/1 pint of water into the top tier. The water should slowly, but steadily drain down.
The surplus water tray at the base of the germinator should be emptied after each watering - check that all excess water has drained down from all three layers.
Then your germinator can be left alone. Most seeds, beans and lentils will have germinated in around a week, some less. N.B. Full instructions are included with the germinator.
Brief Guide to the Parts of the germinator:
At the very top tier of the germinator is a lid to stop dust, flies and other unwanted things from reaching the sprouts. Each tray measures 20cm in diameter and the base of each tray is slatted to ensure that metabolic gases are completely discharged. There are also red water valves (see top photo, right) or siphons, which allow the water to flow steadily through the 3-tiers. This stops the seeds from becoming waterlogged and provides the seeds with just the right amount of moisture to aid germination. At the very bottom of the tower is the surplus water tray, which is emptied after each round of watering.
Looking After the Germinator
Before using your germinator for the first time and each time prior to using it, wash the entire germinator with warm water and washing-up liquid. Then rinse thoroughly with cold water.
This product is temporarily out of stock.
Customer Reviews on Trustpilot
Product Recommendations