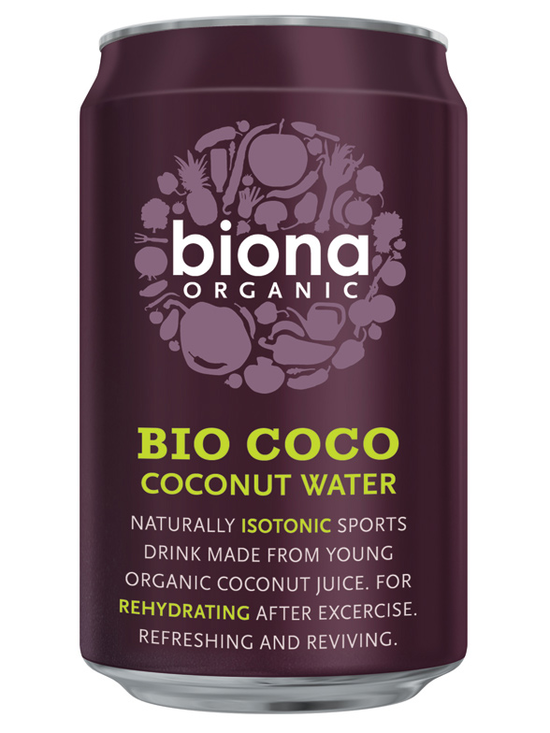 This product is temporarily out of stock.
Coconut Water, Organic 330ml (Biona)
This product is temporarily out of stock.
Pure Organic Coconut Juice
Made using young, freshly harvested coconuts.
Naturally isotonic, re-hydrating and refreshing.
Enjoy after sports, exercise or for general recovery.
Fat free & no added sugar.
Ring-pull aluminium can - recyclable.
Convenient on-the-go packaging.
Biona Coconut Water is made from the pure inner juice of the young coconut. Nothing else has been added to the drink. It keeps its fresh flavour and nutrient value from being sealed in an air tight can.
Coconut water is a thirst quenching drink. It naturally contains isotonic minerals that help the body replace minerals and fluid lost during exercise and even illness (such as diarrhoea or sickness).
Ingredients:
Organic young coconut water. (Country of origin = Thailand)
For more information on our ingredients policy please see here
Nutritional Information
| Typical Values | Per 100ml |
| --- | --- |
| Energy | 21.5 calories |
| Protein | 0g |
| Carbohydrates | 5.2g |
| _of which sugars | 3g |
| Fat | 0g |
| Fibre | 0g |
| Potassium | 230mg |
| Magnesium | 9.3mg |
| Manganese | 0.3mg |
| Sodium | 0.01g |
Organic • Vegetarian, Vegan.
This product is temporarily out of stock.
Customer Reviews on Trustpilot
Product Recommendations