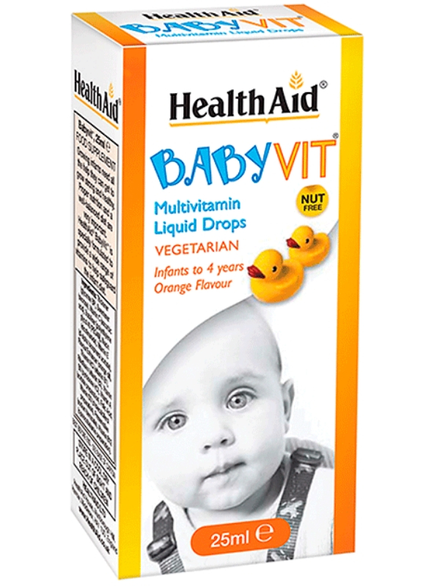 Baby Vit - Orange Flavour (0-4yrs), 25ml (Health Aid)
RRP was: £5.99
Baby Vit Orange Flavour Multivitamin (25ml)
Multivitamin liquid drops.
For infants to 4 years old.
Contains vitamins A, D, C, B1, B2, B3 and Folic Acid.
Works wonders for your child's health and wellbeing, as well as boosting the immune system.
Gluten-free.
Vegetarian.
Nut-free.
Dairy-free.
25ml bottle.
You might also like to try...
Directions:
Take Babyvit Drops daily with food. Shake well before use. Infants 0 to 4 months: œ ml (approx. 10 drops) 4 to 12 months: 1 ml (approx. 25 drops) Over 12 months up to 4 years: 1-2ml (approx. 50 drops)
Ingredients:
Thickener (glycerine BP), Sweetener (sucrose), Vitamin C (ascorbic acid), Stabiliser [poly ethylene glycol 40 (PEG40)], Niacin (nicotinamide), Vitamin E (dl-alpha tocopherol acetate), Flavour Enhancer (orange oil), Thiamin HCl (vitamin B1), Riboflavin (vitamin B2), Vitamin B6 (pyridoxine HCl), Vitamin A (acetate preparation), Folic Acid, Vitamin D3 (cholecalciferol preparation), Preservative (sodium benzoate), Vitamin B12 (cyanocobalamin preparation).
For more information on our ingredients policy please see here
Do not exceed recommended daily intake unless advised by a professional healthcare practitioner. Keep out of reach of children.
RRP was: £5.99
Customer Reviews on Trustpilot