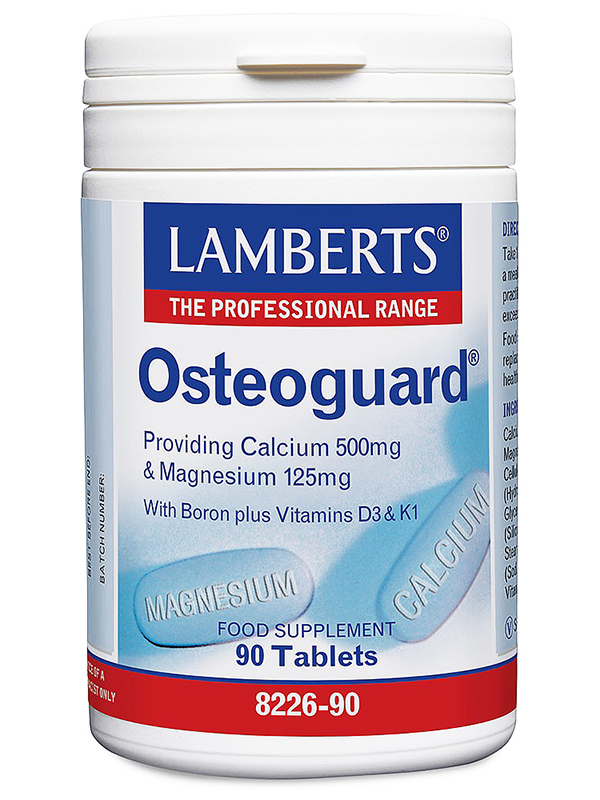 Osteoguard, 90 Tablets (Lamberts)
Osteoguard® is an excellent partner for most multi-vitamin products which don't tend to provide decent levels of calcium and magnesium. Most people understand that calcium contributes to the maintenance of normal bones but it is also needed for the maintenance of normal muscle function as is magnesium.
Daily intake: 1 to 2 tablets.
OSTEOGUARD OFFERS
High potency calcium and magnesium
Plus boron and vitamin D to facilitate the utilisation of calcium
Fine grade mineral compounds to increase solubility
Guaranteed tablet disintegration within 1 hour
Excellent partner for most multis
Lamberts Osteoguard - Active Ingredients
| Ingredient | Quantity |
| --- | --- |
| Calcium | 500mg |
| Magnesium | 125mg |
| Boron | 1.5mg |
| Vitamin D | 5µg |
| Vitamin K | 38µg |
Tableted with
Cellulose, Anti-caking Agents (Silicon Dioxide & Magnesium Stearate), Tablet coating (Hydroxypropyl Methylcellulose, Glycerine), Crosslinked Cellulose Gum, Stearic Acid.
Customer Reviews on Trustpilot