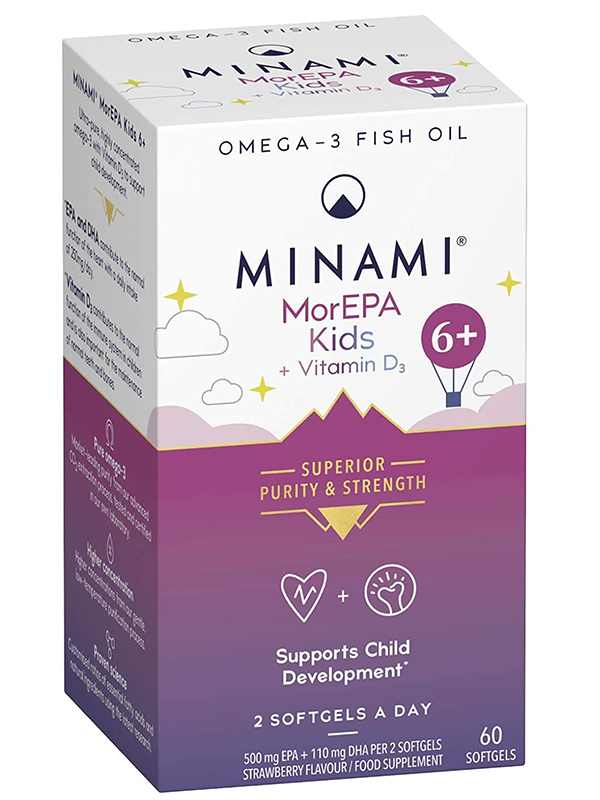 MorEPA Kids 6+, 60 Capsules (Minami Nutrition)
MorEPA Mini 6+
MorEPA Kids uses the highest quality omega-3 with scientifically-proven ratios of EPA and DHA and vitamin D, to provide the best possible support for the development of your minis. Besides its health benefits, MorEPA Kids comes in mini softgels with a delicious strawberry flavour, making sure that your children will be more than excited to take their omega-3 daily. Also ideal for adults having difficulty swallowing the larger softgels.
Vitamin D is needed for normal growth and development of bone in children, and contributes to the normal function of their immune system.
Vitamin D needs sunlight to be produced naturally, which is why its commonly known as the sunshine vitamin. (Evening Primrose oil has been traditionally used to help the skin).
EPA and DHA are proven to help maintain a healthy heart function. (EPA and DHA contribute to the normal function of the heart with a daily intake of at least 250 mg EPA+DHA).
Directions:
For children from 6 years of age and adults: 2 softgels a day, with a meal.
The content can also be mixed with food or can be chewed.
STORE OUT OF REACH OF YOUNG CHILDREN. FOOD SUPPLEMENTS SHOULD NOT BE USED AS A SUBSTITUTE FOR A VARIED, BALANCED DIET AND A HEALTHY LIFESTYLE. DO NOT EXCEED THE RECOMMENDED DAILY DOSE. STORE IN A COOL, DRY PLACE (MAX. 25°C) AND PROTECT FROM DIRECT SUNLIGHT. DO NOT FREEZE.
Deep-sea fish oil concentrate (from anchovy, sardine and mackerel), fish gelatin, humectant: glycerol, evening primrose oil, strawberry flavouring, antioxidant: a mix of rosemary and tocopherol rich extract (Miradoxan), cholecalciferol concentrate.
Customer Reviews on Trustpilot