Click on image to enlarge: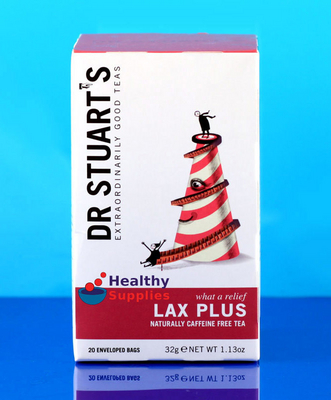 Dr Stuart's Lax Plus Tea contains senna, liquorice, cinnamon,
fennel, ginger and many other ingredients that are
good for digestion.
Take one cup before bedtime, and another in the morning if required. Contains senna, which is a natural laxative. Do not use if you have diarrhoea or are pregnant.
Ingredients
Senna leaves* 31%, Liquorice root* 21%, Cinnamon, Fennel*, Ginger 10%, Senna pods* 15%, Coriander seed, orange peels, natural orange flavour.
* denotes that an ingredient is medical grade, rather than just food grade.
Nutritional Information
| Typical Values | per 100ml |
| --- | --- |
| Energy | 4kcal |
| Protein | 0.5g |
| Carbohydrates | 0.5g |
| of which sugars | 0.5g |
| Fat | none |
| Fibre | none |
| Sodium | none |