HOW TO USE ONION POWDER
Onion powder is a highly convenient natural flavouring for all kinds of dishes. It also blends very well with garlic powder and spices to create an endless variety of savoury seasonings, suitable for both vegetarian, meat and fish recipes.
Onion in powdered form allows you to add flavour to sauces, dips, soups and other recipes where a smooth overall texture is required.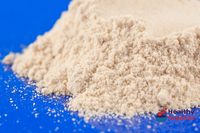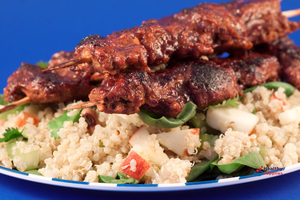 These vegetarian kebabs are made with wheat gluten and onion powder helps provide a good depth of flavour to a convincing meat alternative. Powdered onion is the appropriate form of onion here as is keeps the texture smooth and and does not add unnecessary moisture.
This snack uses onion powder to add that savoury twist where garlic powder would be too overpowering. Here is it blended with yeast flakes and smoked paprika to make a very moreish munchie.
Cauliflower is an excellent low carb and gluten-free alternative for a pizza base. This vegetable has a midly bitter flavour and the onion powder tempers this with its savoury sweetness. Powder allows you to speed up the recipe, rather than having to faff about with finely grating an onion. No sore eyes here!
Onion powder could be regarded as an essential seasoning in the kitchen alongside salt and pepper, since it can provide that savoury umami taste when added to herb and spice mixes.
This vegetarian brunch recipe will generously feed several adults. There is plenty to enjoy here with veggie sausages and bacon. The egg and cauliflower base is flavoured with onion powder. The powder comes into its own, since adding chopped onions might just be overkill in terms of texture.
French Onion Dip (via thepioneerwoman.com)
This dairy-based dip is the perfect partner for crackers, crusty bread and tortilla chips. It can even be used as a sandwich spread. Onion powder and garlic powder make for a super-quick, flavoursome dip, as well as ensuring that the texture remains smooth.
Southern Fried Chicken (via jamieoliver.com)
A delicious recipe which is served with pickle and sweet potato. Onion powder is a crucial flavouring in the seasoning blend that is used to coat the chicken. This flour-based coating could easily be used to coat meat-alternatives such as seitan, tofu or other meat-free products.
Easy Garlic Bread (via food.com)
Onion powder is once again blended with garlic powder to add enhance the savoury flavour of this classic starter/side dish. Using these two flavourful powders offers convenience and speed for last minute cookery!
Vegan Cheese Sauce (via eathealthyeathappy.com)
This is a clever recipe which could equally be used by non-vegans and those with a gluten-intolerance. So, if you suddenly discover you have run out of cheese, try this sauce. It uses a lot of common cupboard and larder ingredients including potato, onion powder and mustard. It has an attractive colour to it as well.