'Meat-free Mondays' were created to raise the awareness of the health benefits of eating a vegetarian diet and the pressures on the environment caused by meat production. Eating less meat can also help you to include more vegetables in your diet and is also easier on your purse!
Whatever your reason to reduce your meat consumption, one day of not eating meat can easily be achieved. You can make meat-like substitutes, such as burgers and sausages, from soya mince, soya chunks, tofu, wheat gluten (seitan), beans and pulses.
Here are some recipes to inspire your meat-free day. Some are veggie takes on classic recipes, other recipes are great new ways to eat meat-free, without feeling like you are missing out!
---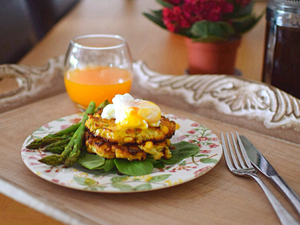 These delicious vegetarian fritters taste delicious with poached eggs and asparagus. The perfect summertime brunch!
---
Chickpeas in a delicious BBQ marinade - what could be wrong with that? This dish is the perfect summer dish! Full to the brim with fresh vegetables and tasty pulses!
---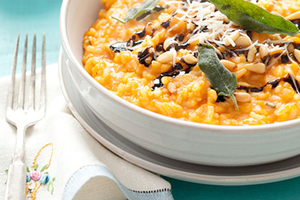 Butternut squash risotto must be one of THE tastiest things ever. Sweet roasted butternut squash with creamy pine nuts, crispy sage leaves and sweet balsamic glaze. Meat-free Mondays will be easy with dishes like this! Don't forget to swap the chicken stock for vegetable stock to make it meat-free!
---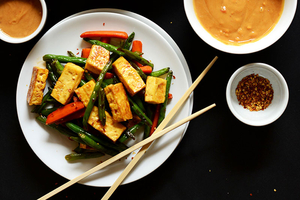 This recipe bakes tofu to give it a more resilient texture, perfect for stir fries! Forget about the takeaway and whip up your own delicious stir fry instead!
---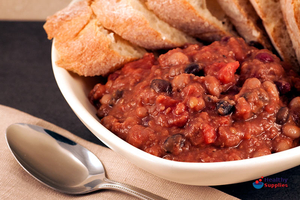 We love a good chilli recipe! This three bean chilli can be made in the slow cooker, leaving you time to relax! Meat-free and no hassle? This is our kind of recipe!
---
Sweet squash served with nutty quinoa, this warm salad makes a great lunch or light supper!
---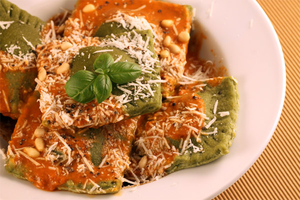 Making your own pasta can be so rewarding! These giant spinach ravioli are perfect for feeding a crowd!
---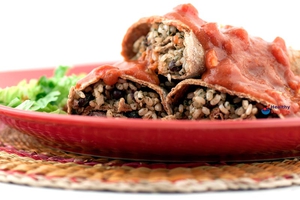 These wholemeal wraps are easy-to-make. This is a filling and spicy veggie version of this popular street food.
---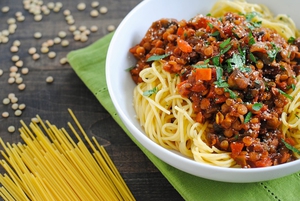 Lentils and mushrooms make a fantastic alternative to mince. Packed full of protein, this veggie version of the popular Italian dish will keep you full and satisfied!
---
Buckwheat makes a fantastic alternative to rice! Here we serve it with a tomato based vegetable bhuna! A great way to use up any spare vegetables that you have lying around!
---
Customer Reviews on Trustpilot
---