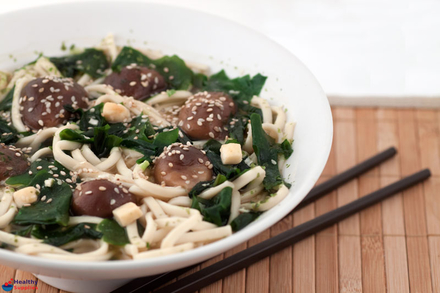 This noodle soup is filling, warming and quick to make!
Udon Noodle Soup - Recipe
An easy soup recipe to provide warmth & replenish energy
A quick lunch or supper dish.
Takes around 10-12 minutes to prepare.
Shiitake and seaweed provide extra minerals.
A simple compilation of ordinary ingredients!
Method
Boil a kettle of water.
Pour the water into a pan together with the noodles. Add the pre-soaked shiitake mushrooms.
Bring to a simmer for about 8-10 minutes.
Pre-soak the wakame seaweed in tepid water. Drain once it has fully re-hydrated. Set to one side.
Then just prior to serving, empty the sachet of miso soup powder into your serving bowl.
Drain most of the noodle-mushroom mix - keep back a good mugful.
Then add the noodle mix, together with some of the cooking liquid, to the bowl.
Stir in the wakame and sprinkle with sesame seeds.
Now eat and enjoy!
---
Related Categories

---

Udon Noodles
Soup Recipes
Soup Inspiration
Customer Reviews on Trustpilot
---