Tzatziki - Classic Greek Dip - Recipe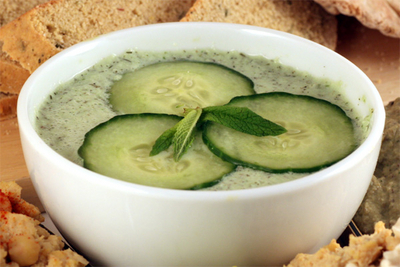 Cucumber & Yoghurt Dip
Tzatziki has got to be one of the classic Summer dips. It cools the palate, which is a welcome contrast to the more fiery dips often found on the Meze table. It's great that such simple ingredients can produce such a lovely outcome!
We've chosen dried herbs, which are still packed with flavour and allow you to be more spontaneous with your mealtimes/entertaining, as well as keeping the cost down.
Ingredients:
- 120g Greek-style yoghurt (we used a 50% fat version for a bit of creaminess)
- 1 garlic clove, finely grated or you can puree with a pestle and mortar.
- 1 Tbsp of
Hampshire Foods Dried Dill
- 2 Tbsp of
Hampshire Foods Dried Mint
- ½ cucumber with skin on & seeds removed, cut into 2-3cm/1 inch chunks.
- 1-2 Tbsp of
Sunita Organic Lemon Juice
.
- pinch of
Clearspring Sea Salt
or
Profusion Fine Himalayan Rose Pink Salt
.
- pinch of
TRS Cracked Black Pepper
or try
Hampshire Foods Garlic Pepper
for a little extra garlic flavour.
How To Make Tzatziki
1)
Spoon the Greek-style yoghurt, mint, dill, garlic and cucumber into a blender or food processor and whizz up until smooth. Add the lemon, salt and pepper and give one final whizz. Depending on the size of the cucumber you used you will achieve a thinner consistency using this method. The dip can be poured straight into a serving dish and garnish with slices of leftover cucumber. You could also use this as a sauce or dressing for a leafy salad or pasta salad.
2) If aiming for a thicker, chunkier texture then dice the cucumber into 1cm-&frac12cm cubes and mix all the ingredients together by hand. We like to leave the skins on to provide extra nutrition as well as colour!
---
Related Categories

---

Sauces, Marinades, Dips & Spreads
Dips And Salsa
Sauces, Condiments & Dips
Customer Reviews on Trustpilot
---