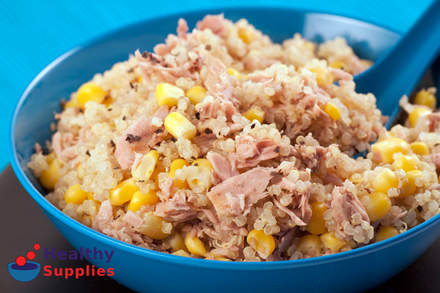 Tuna, Sweetcorn and Quinoa Salad - Recipe
Light, yet Wholesome Tuna Quinoa Salad
This dish is easy to make and can be used like a side salad or as healthy, protein rich meal for the children.
Ingredients
Tinned tuna in spring water or brine.
Sweetcorn pieces (either from a tin or fresh).
Drizzle of Olive Oil
Couple of pinches of Coarse Ground Black Pepper (optional for the kids!)
Directions
Heat water in a pan until boiling. Use enough water to cover the quinoa (about 2 parts to 1). Cook the quinoa with a lid partially covering. While this cooks, simply prepare the tuna and sweetcorn in a separate bowl. Once the quinoa has cooked, stir in with the tuna mix and serve.
See Also...
How To Cook Quinoa

Our handy guide on how to use quinoa, with links to recipes including quinoa salad, vegetarian quinoa burgers and cajun chicken quinoa.
---
Customer Reviews on Trustpilot
---