Tabbouleh Salad - Recipe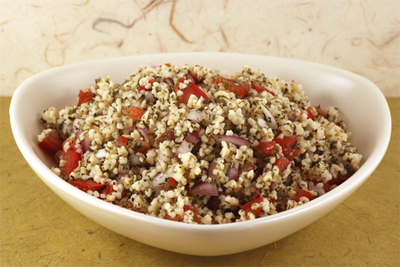 Fresh, herby flavours in this dish from warmer climes...
Tabbouleh is a Middle Eastern salad, traditionally made using bulghur wheat, spices and herbs. It can be eaten cool or warmed and makes a satisfying side dish along side other salad veg, meats, dips and breads. In fact, Tabbouleh is often served as part of a meze (a Middle Eastern or Mediterranean food platter).If you wish, a decent
Extra Virgin Oil
can be drizzled over the finished salad!
Ingredients:
- 25g
bulghur/bulgur wheat
(or use
whole quinoa
for a
gluten free
option)
- 2 big ripe tomatoes
- Fresh, chopped flat leaf parsley (a generous amount) OR 1 tbsp of dried
parsley
- 2 tbsp
dried mint
- 1 chopped small red onion
- 2-3 tbsp
pure lemon juice
, - 1 tsp
sea salt
How To Make Tabbouleh
1) Add bulghur wheat to 50ml boiled water and cover. Put to one side for 20 minutes so the wheat can absorb the water.
2) Chop the tomatoes in half and take out some of the watery seeds. Dice into small pieces and put in a bowl.
3) Add the parsley, mint and onion to the tomato and mix.
4) When the bulgur wheat is soft, use a fork to fluff it up and separate all the grains. Then mix it in with the tomato.
5) Add the lemon juice and season with salt and pepper. Make sure everything is well covered in the liquid. You may want to add olive oil before service, but this is optional.
6) Serve with freshly baked flat breads, wholemeal pitta and houmous.
---
Related Categories

---

Gluten-Free Recipes
Salad Recipes
Dining For Special Occasions
Ten Salads For People Who Don't Like Salads
Customer Reviews on Trustpilot
---