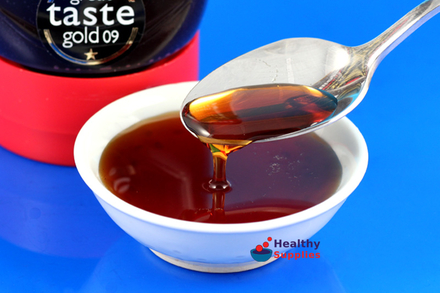 Rich, treacle-like syrup in a squeezy bottle.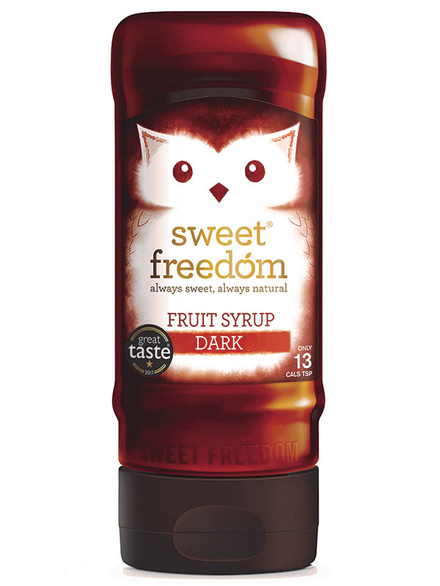 Special Offer: Was: £3.59
Sweet Freedom Dark Fruit Syrup 350g
Special Offer: Was: £3.59
Natural Syrup from 100% Fruit Extract.
Sweet Freedom Syrup is a liquid natural syrup that makes an excellent alternative to sugar. It has a lower glycemic index than sugar - meaning that it is absorbed into the body in a more controlled manner. Furthermore, it has 25% fewer calories than sugar.
A better choice than sugar for many diabetics.
Typically used in tea or coffee.
Also used in baking and other recipes.
Easy squeezy bottle.
This rich flavour has the flavour of a dark sugar such as Demerara or Muscovado.
Vegan alternative to honey.
GM-free, gluten-free.
Directions
Spread on toast instead of using honey. Or, use in place of sugar, using 1 teaspoon's worth of Sweet Freedom instead of 1 teaspoonful of sugar.
Ingredients:
Natural fruit extracts (apples, grapes & carob).
Nutritional Information
| Typical Values | per 4.6g serving (1 teaspoon) |
| --- | --- |
| Energy | 13 calories |
| Carbohydrate | 4 g |
| -Of which sugars | 4g |
| Fat | 0g |
| Protein | 0g |
| Fibre | 0g |
| Sodium | 0g |
Guaranteed gluten-free • Wheat-free • Vegetarian, Vegan • Dairy-free.
Special Offer: Was: £3.59
Related Categories

---

Fructose
Syrups
Sweet Freedom
Customer Reviews on Trustpilot
Product Recommendations
---