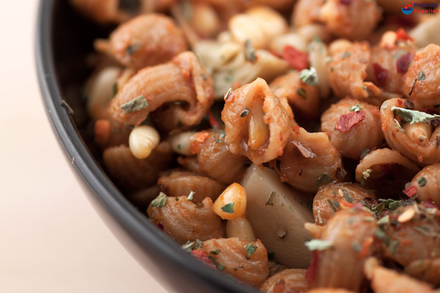 Whole-wheat pasta with sun-dried tomato paste and herbs.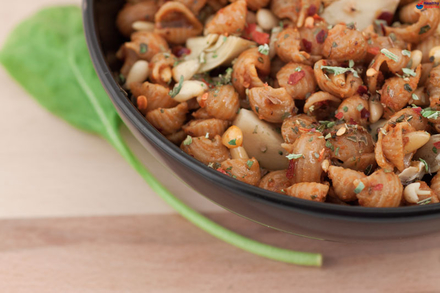 The sun-dried tomato paste is a quick way of adding flavour
to any pasta sauce. It's sure to be a favourite
in any food cupboard!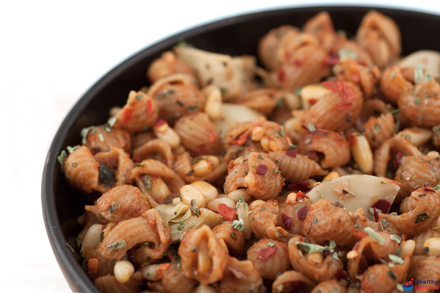 By Marta Blaszczyk
Sun Dried Tomato Pasta - Recipe
Sun-dried tomato paste adds a burst of flavour to pasta sauce.
A simple 10-minute pasta meal.
Flavours: sun-dried tomato, pine nuts, artichoke, herbs.
Made with cupboardy ingredients including sun-dried tomato paste, pasta and dried herbs.
Method
Put the pasta in a pan and cover with boiling water. Bring to a simmer.
Meanwhile, mix the olive oil, herbs, chilli, tomato paste and pine nuts.
Chop the artichoke hearts.
Stop boiling and drain the pasta after 10 minutes, or until the pasta has reached a soft consistency.
Mix well and serve.
---
Other Thoughts
The sun-dried tomato paste is very concentrated, and you do not need very much! It can be used to add flavour to pasta sauces such as bolognese, and can also be used in a red pesto blend.
In our opinion, this paste is actually more tasty than regular sun-dried tomatoes. It's probably because it's finely chopped and pre-soaked, but the result is a much more intense flavour.
This dish can be used as a light lunch, a side-dish or as the basis for a salad.
This pasta works particularly well when served with houmous.
---
Related Categories

---

Vegan Savoury Dishes
Vegetarian Recipes
Healthy Recipes and Articles
Customer Reviews on Trustpilot
---