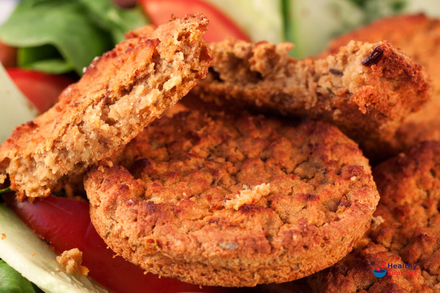 Healthier, no-fry finger food for the whole family.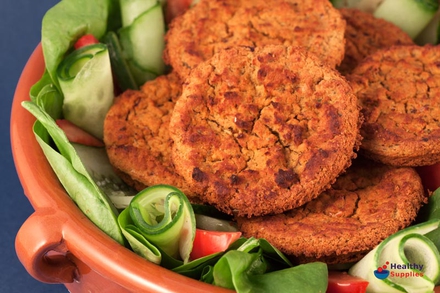 Serve with the traditional houmous (hummus) dip.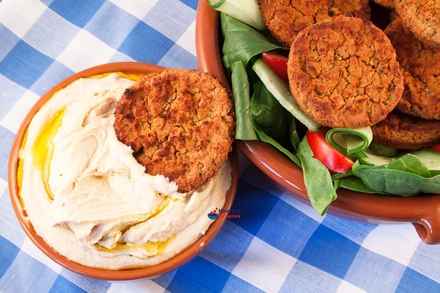 Shown here with Bean Truffle Houmous.
Devised and baked by Caroline Fernandes.
Sun Dried Tomato Falafel - Recipe
Baked, not fried.
Makes around 20 falafel.
Lightly spiced.
Naturally contain no gluten.
Other Ingredients
2 large cloves of fresh garlic.
1 large red onion.
Method
Soak the sun-dried tomatoes in cold water for around ½ an hour to an hour.
Cook the red lentils until soft. Drain off any excess liquid through a fine sieve balanced over the saucepan.
Oil a macaroon tin or shallow bun tin. Pre-heat the oven to 180 °c Fan/ 200°c/ Gas Mark 6.
Peel and roughly chop the red onion into medium-fine pieces. Set to half to one side.
Peel the garlic cloves and add to a food processor along with half of the chopped onion.
Rip the sun-dried tomatoes in half and add these to the food processor too.
Then add the dates, chickpeas, lentils, herbs, spices and olive oil. Blend and pulse until you have a semi-smooth paste.
Sprinkle over the baking power and whizz up for 10-20 seconds. Then add in the last of the chopped onion and blend for a further 10-20 seconds to achieve a mix a bit of texture.
Stir through the yellow corn flour to make the mix a little less wet.
Using wet hands and a dessert spoon to create rough balls of mixture. Quickly transfer these into the macaroon tin/bun tin and press into a discs. Work quickly and evenly as this mixture will not hold its shape for long.
Place in the middle of the oven for 20 minutes at full temperature and then turn the oven down to 160°c Fan/ 180°c / Gas Mark 4 and cook for a further 10-15 minutes or until nicely browned and a crispy crust has formed on top.
Serve with a salad and a houmous dip. Try our Truffle Houmous Recipe which compliments the flavours beautifully!
---
See Also
---
The dip that accompanies these falafels. Containing real truffle oil! More Info >
---
Related Categories

---

Bean Truffle Houmous - Recipe
Top 10 Picnic Recipes
Light Bites and Finger Food
10 Ways To Use Lentils
How To Use Pulses!
Customer Reviews on Trustpilot
---