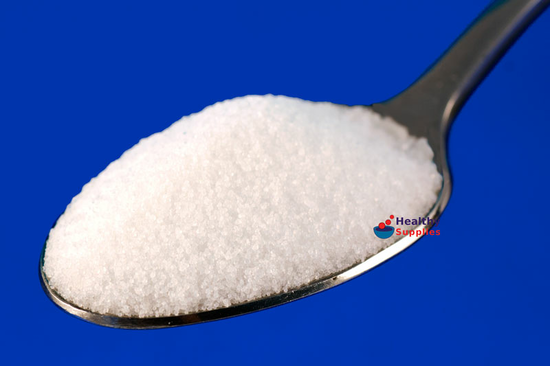 Sweetly stevia has a better taste than regular stevia.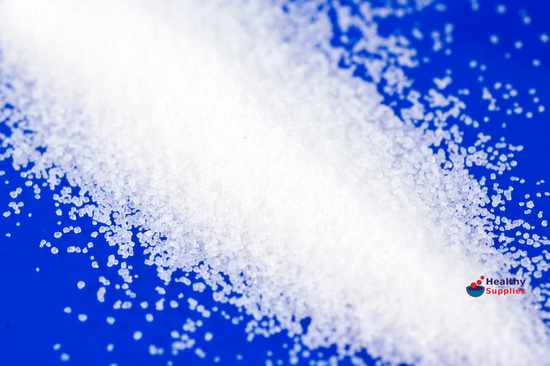 Simply stir into drinks or add to baking.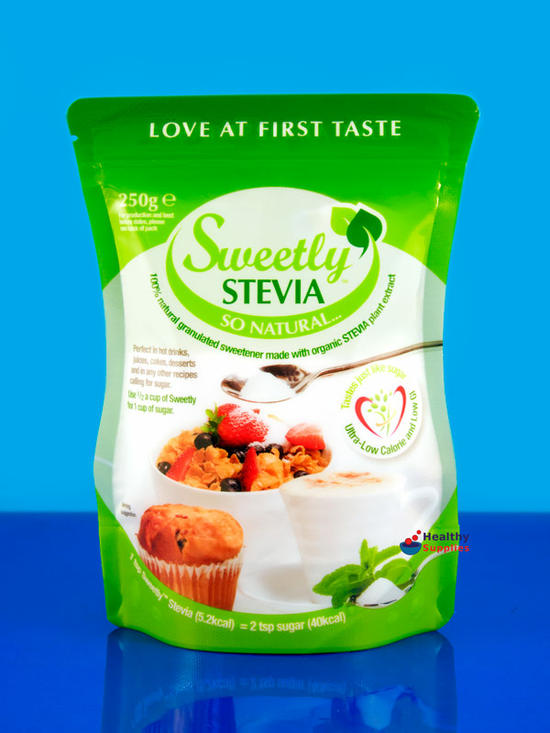 Stevia Sweetener, granulated 250g (Sweetly)
Stevia-based Sugar Substitute
Granulated Stevia Sweetener.
None of the bitterness of regular stevia.
Low calorie, no artificial sweeteners or aspartame.
Use in drinks, baking and desserts.
Retains sweetness when used in baking.
Fat free, gluten-free, lactose free.
Less than one-fifth of the calories of sugar.
Sweetly Stevia is a blend of natural fruit sugar (fructose) and extract of the stevia leaf (Steviol Glycosides). This white granulated sugar substitute makes an excellent alternative to caster sugar and normal white cane sugar. Its fine texture is perfect for baking and cooking as well as stirring into coffee, tea and other drinks.
This blend has none of the bitterness of regular stevia. It is extracted using a different process and is mixed with fruit sugar, which gives it a taste more like caster sugar. This is ideal for those who have tried other stevia sweeteners, and would prefer a more sugar-like taste!
Half a teaspoon of sweetly is the equivalent of one teaspoon of sugar (as this is twice as sweet as sugar). This contains only 2.6 calories per serving, whereas normal sugar contains 15 calories.
As well as for tea and coffee, Sweetly is ideal for lowering calories in baking and desserts, where it contains less than one-fifth of the calories of sugar! When used in baking and desserts, be sure to use half a cup of sweetly for every cup of sugar required.
Ingredients:
Vegetable Fibre, Flavouring: Fructose (Fruit Sugar), Anti-caking Agent: Acacia Gum, Sweetener: Steviol Glycoside.
For more information on our ingredients policy please see here
Nutritional Information
| Typical Values | Per 100g | ½ tsp (2.2g) serving |
| --- | --- | --- |
| Energy | 120kcal | 2.6kcal |
| Protein | 0g | 0g |
| Carbohydrates | 82g | 1.8g |
| _of which sugars | 8g | 0.2g |
| Fat | 0g | 0g |
| _of which saturates | 0g | 0g |
| Fibre | 18.6g | 0.4g |
| Salt | 0mg | 0mg |
Vegetarian, Vegan.
Customer Reviews on Trustpilot