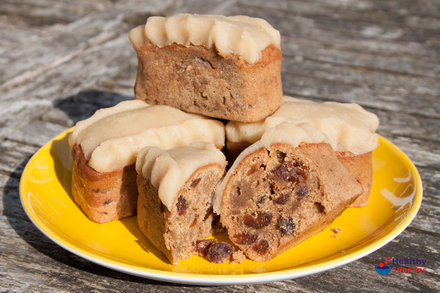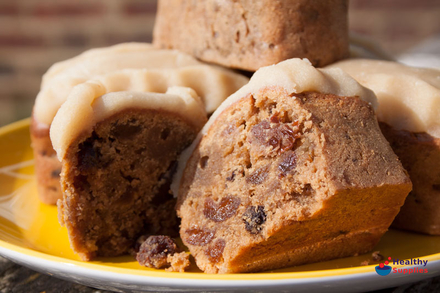 Mini versions of the Classic Easter Simnel Cake
Fruits used: Sweet Cherries, Raisins, Apricots and Mixed Peel
Recipe devised by Caroline Fernandes.
Simnel Cake Slices - Recipe
A light fruit cake that's not overly sweet.
Can be made dairy and gluten-free.
No cane sugar in the cake mixture.
Makes enough for 12 mini loaves or slices.
Topped off with homemade Marzipan.
Other Ingredients
Zest & Juice of 1 Large Lemon
4 Medium Eggs
Milk for mixing (or milk substitute, such as rice milk)
Method
Pre-heat the oven to 160°c Fan, 170°c, Gas Mark .
Fill an oven proof dish half full with water and place at the base or bottom of your oven. The steam created helps to keep the cakes moist.
Place twelve silicone mini loaf moulds [9.5 x 5 x 4cm H or 3¾" x 2" x 1½"] onto a flat baking tray. We did not grease ours at all!
We recommend using a food processor if you have one. Otherwise, sift the Yellow Cornmeal, Rice Flour, Corn Starch and 25g of the Ground Almonds into a large mixing bowl. Then add the Xanthan Gum, Baking Powder and Mixed Spice. Mix a little.
Add the dried fruits and the lemon zest. Stir so that they are all coated in the dry mixture. This will help prevent the fruit sinking to the bottom of each slice when baking.
Add the eggs, Coconut Sugar and Coconut Butter and combine thoroughly. Bring the mixture together and add milk to create a loose dropping consistency/thick batter mix. N.B. Gluten-free recipes benefit when more moisture is added to the cake mix as it helps improve the overall texture.
Spoon the cake mixture into each mould so that they are ¾ full. Place in the centre of the oven for 35-45 minutes or until a skewer comes out almost clean, the cakes have risen above the rim of their mould and the tops spring back to the touch.
Allow to cool on a rack before removing each cake from its mould.
Now make the marzipan. Alternatively you could make this marzipan the night before. Just cover with cling film and store in the fridge until ready to use.
In a clean bowl add the rest of the Ground Almonds (i.e.200g) and sieve in the Icing Sugar. Stir the icing sugar through the almonds. Then add the Coconut Nectar, Almond Extract and Lemon Juice.
Mix thoroughly with a large spoon until the mixture starts to form a ball. Then bring together with your hands, squashing it into a tighter ball. Set to one side.
Using a finger or a pastry brush, paint a layer of Coconut Syrup onto the tops of each cake.
Use two pieces of baking parchment/greaseproof paper around 30cm² and cut the ball of marzipan in half. Place in between the two pieces of parchment and using a rolling pin create a flat oblong of marzipan from which you can cut out rectangles. We used a ruler and a knife to get straight lines.
Place a rectangle of marzipan on top of each cake. Smooth down gently with your fingers so that the marzipan sticks to the cake. Do this with each of the twelve cakes.
With the excess marzipan you can then decorate further. We made two rolls of marzipan which we stuck on each of the longer edges of the cakes and pinched them into a pattern. You can experiment with your own shapes and patterns as you wish.
The cakes are ready to be served and can be stored in an airtight container for several days.
---
Related Categories

---

Gluten-Free Recipes
Cake & Biscuit Recipes
Cupcakes & Sweet Snacks
Easter Treats
Gluten-Free Cakes
Customer Reviews on Trustpilot
---