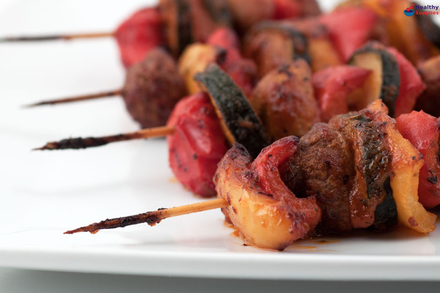 Vegetable kebabs with a honey and mustard marinade.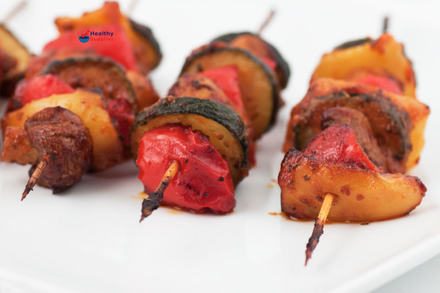 Here we have used red and yellow peppers,
mushrooms and courgettes. You can also try
onions, squash or halloumi, or use the marinade
on meat kebabs.
Roasted Vegetables With Herbs, Part II
Vegetable Kebabs
Simple, with a honey and mustard marinade.
The marinade is based on olive oil, which keeps the vegetables moist and juicy.
Can be barbecued, grilled or roasted.
These flavours can be used for meat too.
Ingredients (Healthy Supplies)
Honey

2-3 teaspoons. A runny, mild honey will work best (such as the English clear honey). Used correctly, honey will help the vegetables to caramelise, without adding too much sweetness.

---

Mustard Powder 50g (Hampshire Foods)

1-2 teaspoons of mustard powder. This should be noticeable, but not overpowering.

---

Hampshire Foods Mixed Herbs 50g

1 level teaspoonful. These mixed herbs consist of basil, marjoram, oregano, parsley, sage and thyme.

---

Tomato Puree Double Concentrate, Organic 130g (Essential)

1 tablespoon of tomato puree. This helps to offset the sweetness of the honey.

---

Crushed Chillies

A sprinkling of chilli flakes according to taste.

---

---

Cracked Black Peppercorn (Coarse Ground)

Around half a teaspoon of cracked black pepper.

---

Olive Oil

Half a cup of olive oil is used in this recipe, as we are creating a marinade to bathe the vegetables in. There is no need to use an expensive one, as most of the flavour comes from the herbs, spices and honey.

---

Atlantic Sea Salt Crystals, Organically Approved 250g (Geo Organics)

A few pinches of salt to taste.
Suggested Vegetables
A red pepper.
A yellow pepper.
A courgette.
A handful of mushrooms.
Method
Create a marinade in a bowl by mixing the olive oil, honey, mustard, chillies, herbs, tomato puree, black pepper and salt.
Chop the vegetables and put them onto a tray. Pour over the marinade, mix and leave overnight.
Give the mixture one final stir, then drain away the oil.
Put the vegetables onto skewers.
Grill or barbecue for around 15 minutes, turning frequently.
Other thoughts
You can use an oven for this recipe if you wish - around 180&degC is the optimum temperature. They will take slightly longer in the oven.
The olive oil keeps the vegetables moist and juicy whilst cooking, but will drip away when cooking. As you can see in the picture above, the vegetables will not be too oily!
If you are using this marinade for meat kebabs, you can substitute some of the olive oil for lemon juice and balsamic vinegar.
---
---
Related Categories

---

Vegetarian Recipes
Healthy Recipes and Articles
BBQ Inspiration
Customer Reviews on Trustpilot
---