Rhubarb & Apple Crumble - Recipe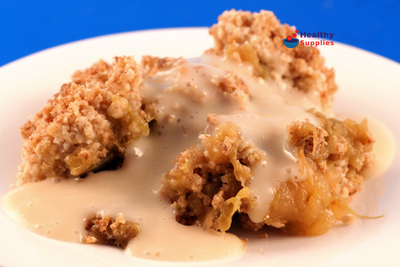 Rhubarb and Apple Crumble (Wheat Free)
with a drizzle or vanilla Soya Custard
Created by Caroline Fernandes.
---
How Did We Make It?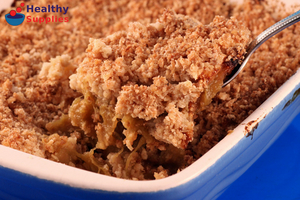 Directions...
1) Heat oven to 180°C.
2) Roughly chop 5 sticks of rhubarb and 2 small apples (about 400g fresh fruit) into rectangular blocks (about 1 inch).
3) Put in a sauce pan. Add 2tsp of xylitol, a dessert spoon of barley malt and 2tbsp boiling water (covering bottom). Bring to a gentle simmer and cover with lid. Cook for 10 minutes maximum (the fruit should be softened but not falling apart).
4) Stir in the allspice and vanilla then pour into an oven proof dish (Leaving enough room for the crumble).
5) To make the topping, mix together the coconut butter, desiccated coconut, ground almonds and rice flour (You can use plain wheat flour if you prefer).
6) Sprinkle crumble mix over the fruit and bake in the oven for 40 minutes. The topping should turn golden in colour and the filling should be soft and bubbling.
Allow to cool for a moment then serve with a generous dollop of custard. (Here we have used soya custard) - Delicious!
---
About The Ingredients
Healthier ingredients should not have to compromise the flavour or consistency of a Rhubarb and Apple crumble. The ingredients we have used are not only healthier alternatives to most typical recipes but they have leant their flavour to the final result.
---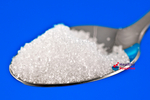 Xylitol is a
completely natural
substance found in plants and trees. This particular xylitol comes from birch tree sap. It is granular and sweet like sugar but has a much lower calorie and GI count. Xylitol makes an excellent sugar alternative.
More Info >
---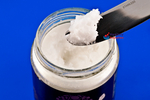 Pure coconut oil is far better for the body then margarine and butter. Our oils are pure and cold pressed, and contain beneficial health properties. Coconut oil can be spread, fried and baked with.
This coconut oil contains special fats called multi-chained fatty acids which are healthier for us than most saturated fats. These are good fats. Studies have shown some of these fats do not raise cholesterol levels, in fact they might help to lower cholesterol and help to regulate our metabolic rate. More Info >
---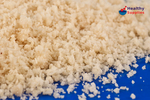 Almonds are a decent source of protein and mono-unsaturated fats (such as omega 6 = good fats).
Our selection of almond powders are made simply by skinning and grinding down whole almonds. No other ingredients have been added. Ground almonds taste naturally sweet and are soft and moist. They add a distinct almond flavour to the crumble topping. More Info >
---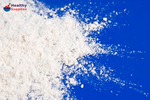 White rice flour was used in this particular crumble mix. White rice flour has its own natural and subtle sweet flavour when baked.
Rice is naturally gluten free. This recipe is free from wheat and dairy too. You could use other flours instead of rice, including plain wheat, buckwheat, barley, spelt, millet and even oatmeal. More Info >
---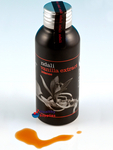 This is pure extract of vanilla. It contains absolutely no added sugar or sweeteners.
This pure vanilla extract has a deep dark colour and a very strong flavour. It is in an alcoholic suspension but that evaporates upon being heated. More Info >
---
Related Categories

---

Buy Desiccated Coconut Online | Healthy Supplies
Gluten-Free Recipes
Rice Flour Recipes
Hot Puddings
Vegan Baking
Pies & Bakes
Christmas Cakes and Puddings
Sugar Free Bakes
Customer Reviews on Trustpilot
---