Spelt Crepes
Ultra-thin Spelt Crepe
Spelt flour has a deep nutty flavour and produces these dark, golden pancakes. These can be enjoyed with either a savoury or sweet filling. Crepes are another name for very thin, large pancakes with a golden colour and crispy edges. Traditionally, you fold them into a pocket and add the filling of your choice. Here, we have gone with classic lemon and sugar which works a treat (Although instead we used xylitol which is a granular, low GI natural sugar substitute (behaves and tastes just like caster sugar). Chestnuts, Chanterelle mushrooms and Tsuyu Seasoning would work really well here too.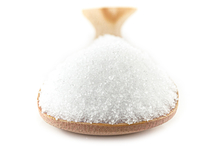 Other Ingredients
2 Eggs
200ml Milk
Method
1) In a large bowl, sift the flour, then add the eggs and milk.
2) Take a small frying pan and heat on medium heat for a minute or two. Add a very small knob of butter (or drop of oil).
3) Spoon the batter into the pan. It will only take about 2 minutes to cook underneath.
4) Loosen with a spatula and flip the pancake over and cook the other side until golden.