Raw Food Platter - Recipe
This raw and vegan friendly lunch platter is made up of several elements including Pizza Rolls filled with Vegan Cheese as well as tasty Vegan Sushi Rolls. We used an electric fan oven set on either de-frost or slow-cook setting to try and mimic a dehydrator. If you are lucky enough to own a dehyrator then your results will be slightly different and of course truer to the Raw Food ethic! The lunch starts off with these appetizer-style cheesey kale bites...
Part 1. Savoury Kale Nuggets
Kale covered in a moreish crunchy coating.
Vegan and vegetarian friendly.
A filling and healthy snack.
Serves 2-4 people.
Other Ingredients
30g-40g chopped kale, washed.
1 clove of garlic, peeled.
Method
Pre-heat the oven on a slow cook setting and set aside a non-stick silicone sheet on top of a baking tray.
Add all the ingredients except for the kale into a blender or food processor. Blend for 10-20 seconds, then stir the mixture and continue in this manner until all the ingredients are combined into a smooth paste.
Put the kale into a large mixing bowl then add the sauce. Using a wooden spoon and/or your hands coat all the pieces of kale. This will be quite a thick coating.
Spread the coated kale evenly across the silicone sheet and place in the oven for at least 2-3 hours. Turn them half way through if you wish.
The kale bites should be browned and lightly crisp when they come out of the oven. They can be stored in the fridge in an airtight container for several days.
---
Part 2. Pizza Flax Raw Bread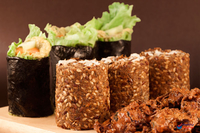 Simple, high fibre alternative to bread.
Easily cut, rolled and filled.
Makes two large, rectangular flat breads.
Other Ingredients
60g of Red Onion
3-5 cloves of garlic, peeled.
500ml of fresh, cold water.
Method
In a large mixing bowl add the Golden and Brown Flax Seeds, the Sprouted Flax & Chia Powder and the water.
Allow to soak for 2-3 hours at room temperature. Stir half way through. The mixture should become progressively thicker.
Soak the sun-dried tomatoes in a separate dish for 30 minutes to an hour. Drain and set aside.
In blender or food processor add the onion, garlic cloves, olive oil, almonds, sunflower seeds, pumpkin seeds and the sun-dried tomatoes. Blitz until you have a paste. Add extra olive oil if necessary.
Pre-heat the oven on a slow cook setting and set aside two non-stick silicone sheets on top of two baking trays.
Stir the paste into the soaked Flax-Chia and add the Oregano, Marjoram and Pepper. Combine the ingredients thoroughly until you have a thick cake mixture consistency.
Spread out the mixture over both silicone sheets and smooth over evenly. Use the baking trays to transfer each silicone sheet onto an oven shelf, so that the silicone sheets are resting directly on the wire shelves. Place in the oven for 2 hours.
Then turn over and continue to gently 'cook' for a further two hours or until both side of each flatbread are browned and 'cooked' all the way through i.e. the colour will look golden to dark brown all the way through. Tip: they are not quite ready if slightly brown-grey inside.
Allow to cool and then cut as you wish. We made rolls filled with Vegan cream cheese (see recipe below) as this flax bread is both strong and flexible.
---
Part 3. Vegan Herby Cream Cheese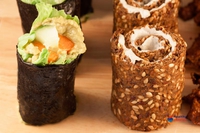 Mimics the flavour and texture of cream cheese.
Add your favourite herbs & spices.
Use as a spread or as a dip.
Other Ingredients
1 clove of garlic, peeled.
100ml-120ml of cold, fresh water.
Method
Drain the soaked pine nuts and cashews (minimum soaking time 2 hours) then transfer into to a blender/liquidiser.
Add all the other ingredients and a little of the cold water. Blend for half a minute.
Stir and blend again. Add more water if the mixture is becoming too thick.
Once you have a smooth paste with a thick-ish consistency scoop out into a muslin bag or use a very fine meshed sieve.
Balance the muslin or sieve over a bowl, cover and transfer to the bottom of the fridge. Allow to drain for several hours or better still overnight.
Unwrap and place into a plastic lidded container. The 'cheese' is now ready to use. Store in the fridge when not using. This recipe can be halved for a smaller household or to make it more economical.
---
Part 4. Avocado & Coriander Houmous (Hummus)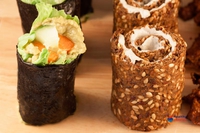 A smooth, creamy dip or filling.
Makes enough for multiple servings.
Use to fill wraps, sandwiches and vegetarian sushi.
Other Ingredients
1 ripe Avocado, peeled and de-stoned.
1 clove of Garlic, peeled
Large handful of fresh Coriander Leaves, washed and patted dry.
Method
Place all the ingredients into a powerful blender or food processor and blitz until you have a smooth paste.
Serve/use immediately or store any remainder in an airtight container in the fridge for up to 2 days.
We used this dip to fill the inside of the Vegetable Sushi Rolls. Cut strips of Untoasted Nori Seaweed and lay flat on a chopping board.
Lay down a layer of lettuce or baby spinach (we used Iceberg Lettuce), then spread with a layer of the houmous. Add some strips of carrot and cucumber in the centre part of the seaweed strip and wet one end.
Gently roll from one end to the other and gently smooth the seaweed sheet together with your fingers.
Repeat as may times as you wish to make your chosen number of Sushi rolls.
---
Related Categories

---

Ten Party Nibble Ideas
Dining For Special Occasions
Light Bites and Finger Food
Vegetarian Recipes
Top Ten Uses of Pumpkin Seeds
10 Grain-Free Recipes That Seem Surprisingly Normal!
Ten Ways To Use Flaxseed
Customer Reviews on Trustpilot
---