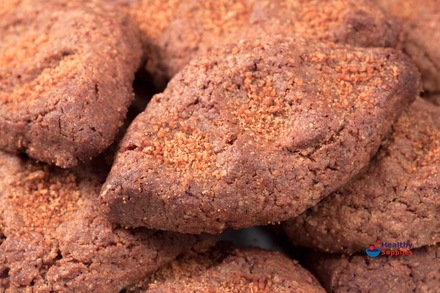 Flavoured with French 4-spice: pepper, ginger, cloves and
nutmeg - plus cinnamon. Surprising, but it works!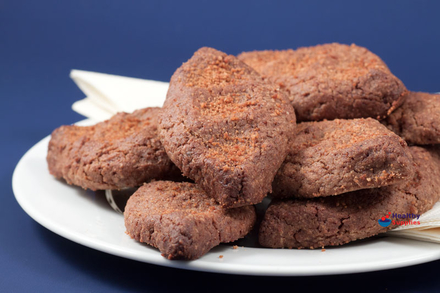 No-fuss, crunchy everyday spiced biscuits. Flavours similar to
gingerbread, but milder.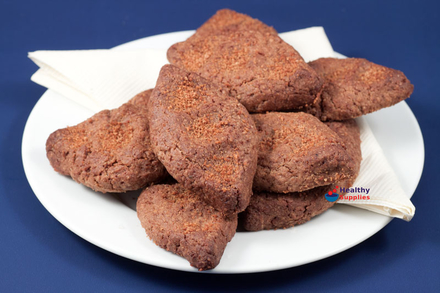 French Four Spice (Quatre épices) Biscuits
Speedy Sweet 'n' Spicy Biscuits
Devised and baked by Caroline Fernandes.
These biscuits taste a cross between gingerbread and shortbread. They are lightly soft when you munch one that's come straight out of the oven. They develop a nice crunch once they have cooled. They are perfect with an afternoon cuppa and can be successfully dunked!
This is a good weekend baking recipe for those starting to learn to bake and easy to get children involved as the dough can be moulded by hand into different shapes. You can use cookie cutters if you wish.
This recipe makes enough for 25-30 biscuits depending on the shape you choose to create. We used a good heaped dessert spoonful of dough.
Ingredients (Healthy Supplies)
Wholemeal Spelt Flour, Organic 1kg (Doves Farm)

250g of spelt flour. Spelt is a traditional form of wheat that was popular some time ago. Many people find that spelt is easier to digest, as it's less refined and lower in gluten than modern wheat. Surprisingly, spelt is lighter and fluffier than modern wheats, so is ideal for cakes and biscuits.

---

Quatre épices - French Four Spice Mix 50g (Hampshire Foods)

1 teaspoon of french Four Spice Mix (Quatre Epices) - which is a mixture of ground white pepper, ginger, cloves and ground nutmeg. These help to give the biscuits a gingerbready taste!

---

Organic Ceylon Cinnamon Powder (100g) - Sussex Wholefoods

3 teaspoons of cinnamon. Cinnamon always works quite well in biscuits. Make sure that you use Ceylon cinnamon rather than the Chinese cinnamon, as it is a lot sweeter and better. Chinese cinnamon is really for curries!

---

100% Pure Organic Coconut Butter 350ml (Tiana)

125g of coconut butter. Coconut oils and butters vary enormously in their flavour and texture. This particular coconut butter has a neutral taste, and does not lend any coconut flavour to the biscuits (which is the desired result in this case, because you don't want them to be too coconutty).

---

Organic Coconut Sugar (1kg) - Sussex Wholefoods

125g of coconut sugar , plus a little extra for dusting. Coconut sugar has quite a rich, biscuity taste and is ideal for cakes and biscuits. Again, it does not have a coconutty flavour.
Other Ingredients
---
Method
Pre-heat the oven to 200°c/Fan 180°c/Gas Mark 6. Place some baking parchment onto a flat baking tray or grease a non-stick baking tray.
Melt the butter in the microwave or in a milk pan on the cooker..
Put the Spelt Flour, 4-Spice, Cinnamon and Coconut Sugar into a large mixing bowl.
Add the melted butter and mix in using a knife, spatula or wooden spoon.
The dough should start to come together. You will see that the flour turns a rich brown colour as the butter melts in.
Add the egg and continue to combine the ingredients.
Bring the dough together into a ball. You can cover and leave to rest in the fridge for 30 minutes if you want to roll out the dough. We did not bother doing this as we were forming biscuit shapes by hand.
To make the leaf shape shown in the photos, first take around a heaped dessert spoonful of mixture and roll into a ball. Then make a rough sausage shape and using the thumb and forefinger, pinch along the length of the 'sausage'.
Then place onto the baking tray. Using your middle finger make three dips along the length of the dough and pinch either end to make the dough look like a leaf.
Place the uncooked biscuits into the top half of the oven for 10-15 minutes. Remove and sprinkle with coconut sugar. The sugar should collect nicely in the dips.
Optional: Switch off the oven and place the sugared biscuits back in the oven for up to 5 minutes so that the sugar sticks a little to the biscuits.
The biscuits are ready to eat!
---
Related Categories

---

Cookies & Biscuits
Cake & Biscuit Recipes
Biscuits & Cakes
Customer Reviews on Trustpilot
---