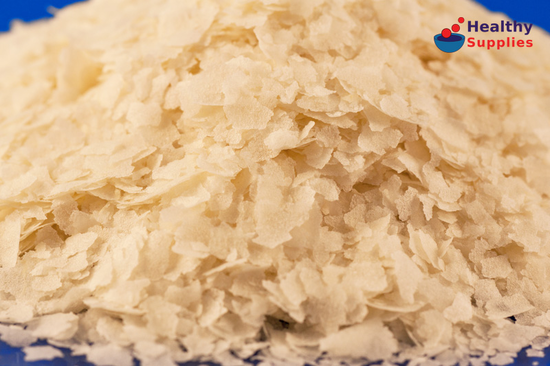 Plain potato flakes with no added salt.
Easy, instant mashed potato with no lumps.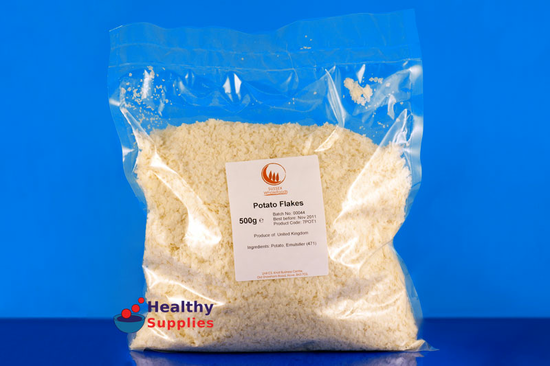 Potato Flakes 500g (Sussex Wholefoods)
Healthier Instant Mashed Potato: No salt
Healthy instant mashed potato - contains no added salt!
The perfect mashed potato for young children.
Also suitable for thickening sauces.
Perfect for lunch time meals or camping trips.
Very easy to mix... smooth and not lumpy!
Tastes and behaves just like typical mashed potato!
This thinly rolled and flaked potato makes excellent instant mash. It is free from salt and preservatives making it suitable for the whole family to enjoy.
Directions
These potato flakes are fantastic for rescuing sauces that have gone too runny - for example, if you have added too much water to a bolognese sauce or curry, or if the canned tomatoes that you are using are too watery. Simply sprinkle a tablespoon or two of these potato flakes directly into the pan and stir in for an instant thickening effect... problem solved! Potato flakes are much easier to use than arrowroot or cornflour, as they don't go lumpy.
To make mashed potato, simply add boiled water to the flakes. Start by adding a little and mixing. You can then add more water if you want a smoother, wetter mash. (You can also make mash with cold water and microwave, if that's any easier). The resulting mash is very smooth and uniform and easy to work with... no lumps!
To make flavoured mash, why not add some Onion Powder which has a fantastic natural cheese and onion taste. Or perhaps you could sprinkle in some Peas or Leeks with a pinch of Cracked Black Pepper. These are all quick, easy ingredients that would make a simple lunch time meal or could be taken on a camping trip as warming, instant high quality food.
Storage
Potato flakes store for at least 6 months, provided they are kept in an air tight container. To seal the bag, a freshness clip is also useful.
Ingredients:
Mature potatoes, emulsifier (471 - derived from vegetable oil). (Produced in the UK)
The potatoes have been washed, peeled, trimmed, cooked, and roller dried. For more information on our ingredients policy please see here
Nutritional Information
| Typical Values | Per 100g |
| --- | --- |
| Energy | 343 calores |
| Carbohydrate | 76.0g |
| _of which starch | 68g |
| _of which sugar | 1.5 |
| Protein | 8.5g |
| Fat | 0.6g |
| _of which saturated | 0.4 |
| _Polyunsaturated | 0.1 |
| Fibre | 2.5g |
| Sodium | 0.45g |
Packed in a factory that also handles nuts, soya, sesame, eggs, milk, mustard, celery, wheat and gluten.
Customer Reviews on Trustpilot