| | |
| --- | --- |
| 5 Pizza Crust Alternatives | |
There are plenty of ways to enjoy a healthier pizza just by modifying the ingredients in your base.
Some recipes avoid gluten and grains altogether by utilising vegetables, nuts and gluten-free grains. These pizzas tend to need to be eaten using a knife and fork as they lack the gluten required to hold everything together. The rule with vegetable bases is to squeeze as much liquid from them as possible prior to baking, to help achieve a crisper finish.
These bases will offer a broader spectrum of nutrients than the traditional wheat-based pizza crust. Another good reason to give them a go!
Here are just a few of the most popular pizza base alternatives.
---
This beautiful looking pizza has a base made from mashed squash, ground almonds, ground flax and chickpea flour. A fibreful combination, which is both filling and full of nutrients.
---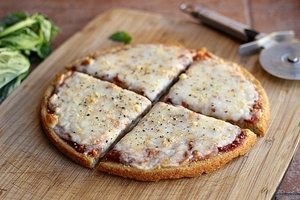 Mostly made from pre-soaked quinoa this is perhaps the simplest of all the crust alternatives. Blend the quinoa with baking powder and salt to form a batter. This creates a savoury, thin-crust style pizza base, which contains all the essential amino acids to help build a healthy body.
---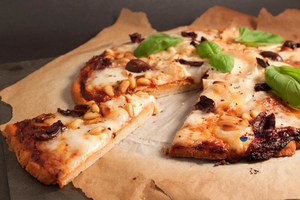 This recipe creates a crunchy, crispy base. It is made from combining de-fatted almond flour and tapioca flour with a little yeast. It holds its shape reasonably well, depending of course, on how thick you make your topping!
---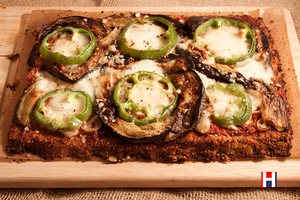 A magical, low-carb pizza crust. Once par-cooked and seasoned, you would not know this was made from the humble cauliflower. The finished result is a softer, deep-pan style pizza base.
---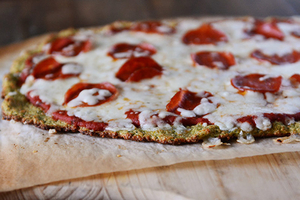 Another low-carb, vegetable base. Note: This one does contain wheat flour, so swap this for wholemeal spelt flour for a slightly healthier version. To make this recipe completely gluten-free, use a gluten-free plain flour blend, such as
Doves Farm
.
---
---
Customer Reviews on Trustpilot
---