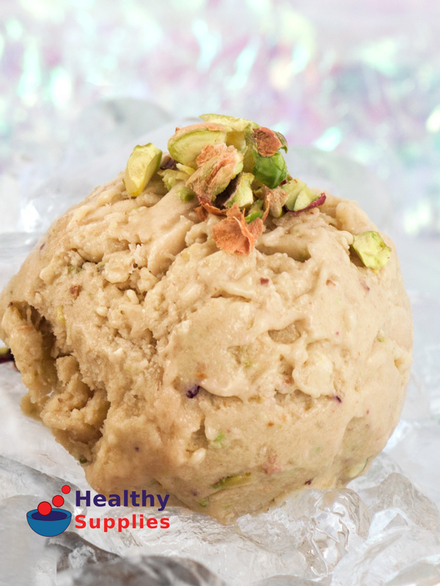 Pistachio Ice Cream
A Beautiful Pale Green Ice Cream With Real Chunks of Pistachio!
By Caroline Fernandes, Owner, Healthy Supplies.
This healthy version of the nation's favourite is dairy free, gluten free ad vegan friendly.
It makes a delicious summer time dinner party dessert. Lovely served on its own with a sprinkle of crushed nuts on top, as well as served on the side of a warm pudding.
Ingredients:
Method:
1) Combine all ingredients in a large jug. Fold the mixture together to ensure that the ingredients are thoroughly mixed.
2) Pour the mixture into an ice cream maker and churn for 10-15 minutes until you have a thick creamy consistency.
3) Pour ice cream into a container and leave in the freezer for at least 5 hours.
Please note if you do not have an ice cream maker, this recipe can be made using the same method as the Hazelnut ice cream recipe.
Note that most commercially available pistachio ice-cream is artificially green-coloured! However, you can colour this ice cream green using spinach powder if you feel the need!
---
Related Categories

---

Ice Cream & Frozen Recipes
Vegan Dessert
Healthy Recipes and Articles
Customer Reviews on Trustpilot
---