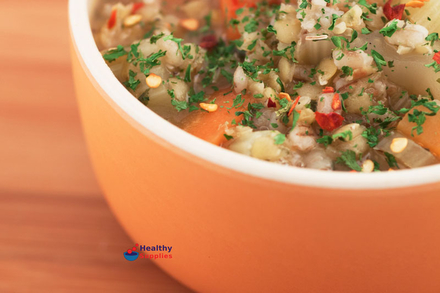 A fusion of Indian and European flavours.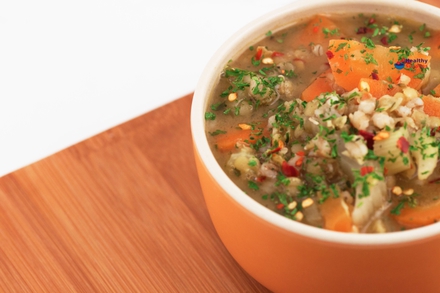 With pearl barley, lentils, cumin and asafoetida.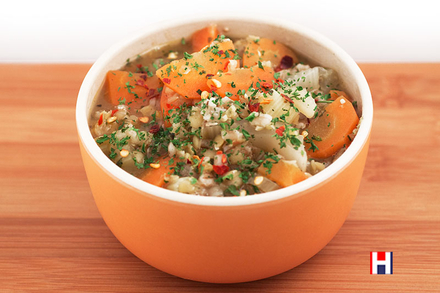 By Marta Blaszczyk
Spicy Pearl Barley and Lentil Soup - Recipe
Flavoured with Indian and European herbs and spices.
A meal in itself, with barley and lentils!
Serves 4 people.
Ingredients (Healthy Supplies)
Pearl Barley, Organic 500g (Infinity Foods)

Half a cup of pearl barley. Pearl barley is similar to pot barley, but has some of the husk polished off. You can use pot barley too, but it will take slightly longer to cook.

---

Organic Red Split Lentils 1kg Infinity Foods

1 cup of lentils. Here, we used red split lentils, but you can also use chana dal.

---

Asafoetida Powder

1 teaspoon of asafoetida. Asafoetida is a misunderstood spice. It has a flavour similar to a cross between onions, garlic and herby sausages! It has a very strong flavour when raw, but once cooked, the aromas become mellow and it adds a real depth to any spicy meal.

---

Crushed Chillies

A sprinkle of crushed chillies to add a little heat to the dish. Be as generous as you like, depending on taste.

---

Cumin Powder

1 teaspoon of cumin powder. Together with the asafoetida, this gives the soup an almost curry-like flavour, but it is still reassuringly soup-like.

---

Oregano

A generous sprinkle of oregano. This offsets the spiciness a little with a little more herby goodness.

---

Parsley

A generous sprinkle of parsley.

---

Atlantic Sea Salt Crystals, Organically Approved 250g (Geo Organics)

Salt to taste.

---

Cracked Black Peppercorn (Coarse Ground)

A sprinkle of cracked black pepper.

---

Olive Oil

A drizzle of olive oil for cooking in the saucepan.
Other Ingredients
2 carrots, chopped.
2 sticks of celery, chopped.
Method
Soak the barley overnight.
Find a medium-sized saucepan with a lid.
Drizzle some olive oil into the saucepan and bring to a high heat.
Fry the asafoetida in the olive oil for a few seconds.
Immediately add the carrots and celery, and cook for around half a minute.
Add the rest of the ingredients, together with around 3 pints of water.
Bring the pan to the boil, then lower the heat to a simmer.
Put the lid on the pan, and simmer for half an hour, stirring occasionally.
Serve, and sprinkle a little more parsley over the top.
Other thoughts
Asafeotida is commonly used in Indian cuisine. It adds a depth of flavour to curry-like meals. It actually comes from a single plant, but adds a multitude of different flavour-notes which are both herb-like and garlic-like. It is overpowering when raw, but do give it a chance! Once cooked, it mellows and tastes really good.
We used pearl barley, but pot barley will work just fine too. Just add about 5 more minutes.
If you forget to soak the barley, then it will take around an hour to cook!
---
Related Categories

---

Soup Recipes
Vegan Savoury Dishes
Vegetarian Recipes
Soup Inspiration
10 Ways To Use Lentils
Customer Reviews on Trustpilot
---