Ten Party Nibble Ideas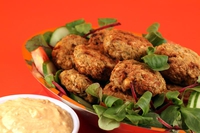 These lighter bites are ideal for celebrations. Vegetarians, vegans and those following a gluten-free diet can also enjoy many of these recipes. With fresh, clean flavours you can bake, slice, spread and roll-up a feast of mini morsels.
---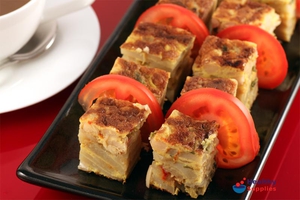 A twist on the classic Spanish style potato omelette. These cubes have a good balance of carbs and protein to keep you happy whilst you party. Simple to make in a frying pan earlier that day and slice up chilled into bite-sized pieces. Wonderful with a glass of white wine or fancy fizz!
---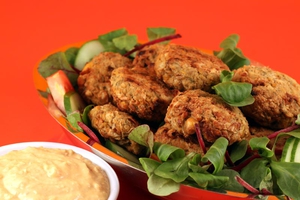 Quick-to-make spicy Falafel in the oven! Serve on a skewer with a slice or two of your favourite salad veg or pop onto an appetizer spoon with a generous blob of home made houmous.
---
Pretty posh and full of body-friendly ingredients such as apple cider vinegar, manuka honey and sprouted seeds. This recipe also comes with a healthy shot drink, which you can serve on the side. Vegan friendly and great for a gathering of all ages.
---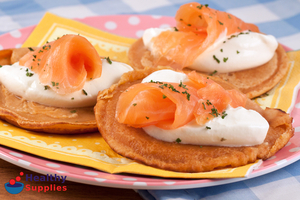 Buckwheat miniature pancakes topped with the classic combination of Smoked Salmon and Dill. We have swapped the heavy and often overly rich sour cream for a the lighter, often more palatable Creme Fraiche.
---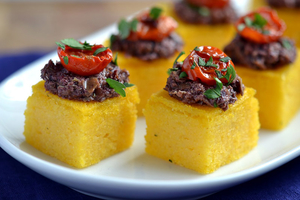 Gently seasoned polenta makes an easy-slice, plain base for party canapes that can be kept vegan, vegetarian or just gluten-free. This recipe uses an olive tapenade as the flavour contrast, but as the author suggests you can spread your favourite houmous or dip on top instead and garnish with salad veg.
---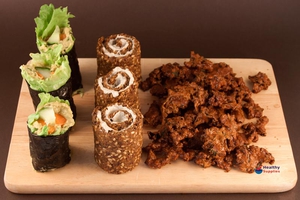 3 recipes in one here! Savoury Kale Nuggets with a gorgeous savoury-smoky coating; Flax Pizza Bread filled with vegan cheese; Avocado & Coriander Houmous seaweed salad wraps. Any raw food guests and vegans will be amply catered for and they provide a saintly choice for all!
---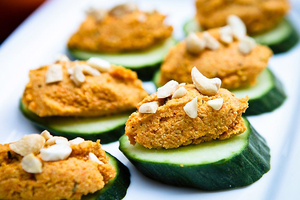 Dairy free savoury bites topped with home made vegetarian pate. Made with cashews, carrots, white miso, paprika and thyme. These canapes have a lovely fresh crunch with satisfying flavours for both meat-eaters and vegans alike!
---
Luxury appetisers for seafood lovers. An enticing flavour combination with smooth-buttery-sweet-earthy flavours. Pre-cook the butternut squash and then assemble and grill the scallops-squash-basil combination at the last minute. Enjoy with a glass of bubbly, or with white or rose wine.
---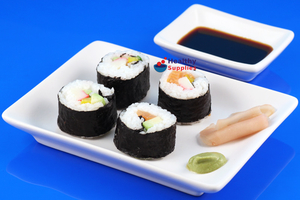 The classic finger food that can be made purely veggie or with fish. Use smoked salmon where super-fresh raw fish is unavailable or unreliable. Wonderful sushi rolls can easily be made from cooked or pickled fish such as roll-mops (pickled herring), cooked prawns and tuna. Wrap the fillings in the sticky sushi rice and finally finish with an outer wrapping of Nori seaweed. Adds variety to your party nibbles.
---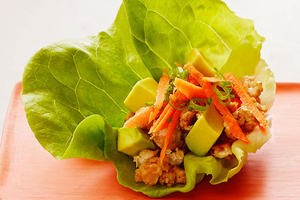 Why bother with the bread when you can enjoy a tasty mix of flavours contained in a delicate lettuce leaf! This is one for the meat eaters. Chicken and avocado will always make a fantastic taste and texture combination... And there is no need for mayonnaise with the Asian inspired dressing!
---
Customer Reviews on Trustpilot
---