Pancake day is just around the corner! Make sure you stock up on pancake ingredients before Tuesday 9th February! Here are some of our favourite recipes!
---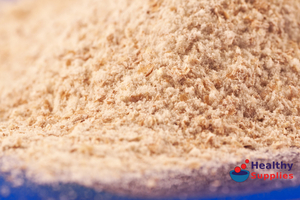 Different flours, syrups, spreads, puree, fruit, nuts and natural flavouring...There are all sorts of ways you can make interesting and tasty pancakes!
---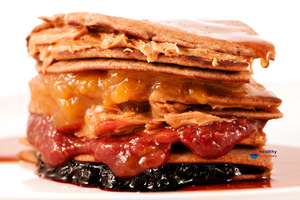 Gluten-free, Deep Pan Wholemeal Pancakes
These thicker style American pancakes are made entirely from
White Teff Flour
. The sweet spices we used compliment jam and fresh fruit toppings. These gluten-free pancakes can be eaten rolled, open or made into a giant pancake sandwich!
---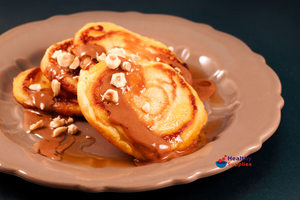 Gluten-free & Dairy-free Pancakes
Simple, thicker style pancakes that don't require eggs or milk! The secret ingredients are
Millet Amazake
and
Doves Farm Gluten-Free Self-Raising Flour
. With these two cupboard ingredients you'll always be able to rustle up pancakes whenever you fancy. No need to worrying about using up your milk/milk substitute or eggs. And now everyone in the family can enjoy this pre-Easter treat.
---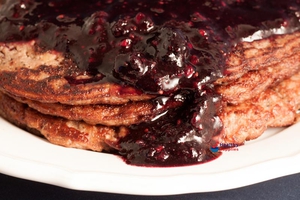 Grain-free pancakes.
Made with ground almonds, coconut and seeds. Very tasty! Topped with a blackberry compote, this pizza uses no flour at all and is compatible with the Paleo Diet - which is a sensible way of eating more nuts, seeds and fruit as our ancestors would have done.
---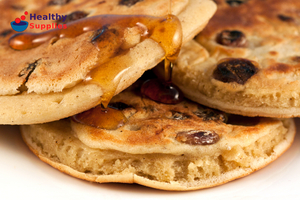 Gluten-free Scotch/American pancakes
Adapted with
raisins, currants and sultanas
,
vanilla
and
mixed spice
. Click here for full directions.
Otherwise known as "drop scones", "Scotch pancakes" or "American-style", these pancakes are soft, spongy and thick. The added fruit gives a juicy sweetness and the cakey consistency resembles that of crumpets.
This recipe is gluten free.
---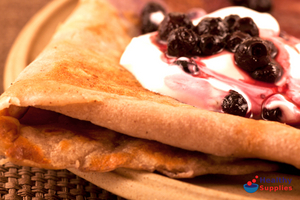 Gluten Free Chestnut Pancakes
These pancakes have a very subtle sweetness but still work exceptionally well with both savoury and sweet toppings.
---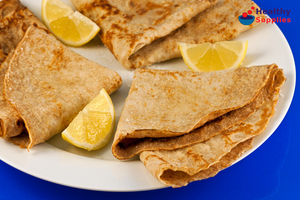 Classic large, thin pancakes made with organic spelt flour. These thin pancakes are made by pouring the batter into a large frying pan. These cook quickly and the edges become slightly crispy. The dark colour of the spelt lends itself to the golden colour of the pancake.
Here we have topped the pancake with lemon juice and a sprinkling of xylitol.
---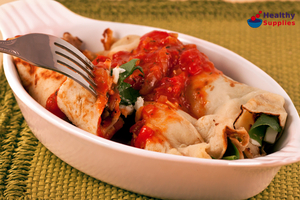 A Savoury Pancake Dish with an Italian Twist
This is an easy to make savoury pancake, stuffed with creamy feta cheese and fresh spinach. This serves as a great as a starter or a light dinner with salad.
---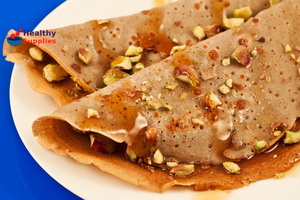 Naturally nutty in flavour - Great with either a sweet or savoury fillings!
Buckwheat
is a dainty heart-shaped pseudocereal which is packed with
protein
and has a raw,
nutty
flavour and a greyish brown outer surface. Despite the name, buckwheat bears no relation to wheat and is naturally gluten free. Combining buckwheat flour with the
sweet
, nutty flavour of
brown rice flour
, makes an excellent base for a gluten free pancake recipe.
---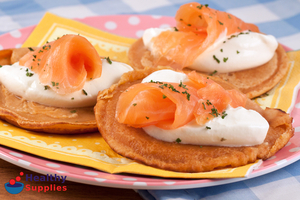 Diddy Pancakes with Savoury Salmon Topping
Smooth and cool smoked salmon blinis accompanied with crème fraiche, lemon juice and herbs.
---
Customer Reviews on Trustpilot
---