Paella - Recipe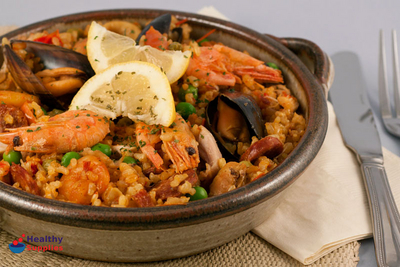 Traditional and Satisfying Spanish Paella
Our traditional paella is packed full of succulent seafood and authentic spanish ingredients. This quick one pan dish is relatively quick to make giving you time to enjoy a siesta!
Serves between 6 to 8 hungry mouths - depending on how many people want second helpings! Our mixed seafood consisted of mussels, squid, and prawns.
Ingredients:
- 170g/6oz chorizo, cut into thin slices - 110g/4oz diced pancetta - 4 cloves garlic finely chopped - 1 large White onion, finely diced - 1 red pepper diced - 1 tsp soft thyme leaves - Πtsp dried red chilli flakes - 570ml/1pint short grained brown rice - 1 tsp Paprika - 125ml/4fl oz dry white wine - 1.2 litres/2 pints Chicken stock, heated with Πtsp Saffron - 8 chicken thighs, each chopped in half and browned - 500g Mixed Seafood - 110g/4oz fresh or frozen peas - 4 large tomatoes, de-seeded and diced - 125ml/4fl oz extra virgin olive oil - 12 jumbo raw prawns, in shells - A handful of chopped flatleaf parsley - Salt and freshly ground black pepper
Directions
1) Pre-heat the oven to gas mark 4. Place the chicken on an oven proof tray and bake for 45 minutes until golden brown: set aside.
2)In the meantime heat the oil in a large bottomed pan and cook the pancetta and chorizo until crisp. Add onion, garlic and pepper and cook until soft.
3) Next add the chilli flakes, thyme and short grain brown rice. Stir until the rice is coated and shiny. Pour in the wine & paprika and bring to a simmer.
4) Add stock, salt & pepper, peas and sea food and allow to simmer for 20 minutes.
5) Pour all of the mixture into an oven proof pan and add the tomatoes, whole prawns and cooked chicken thighs and bake for one hour on a low heat.
Serve immediately with a garnish of parsley and a squeeze of lemon juice.
---
Related Categories

---

One Pot Dishes
Recipes From The Team
Summer Recipe Inspiration
Sunday Roast Alternatives
Eight Completely Different Ways To Use Rice
Customer Reviews on Trustpilot
---