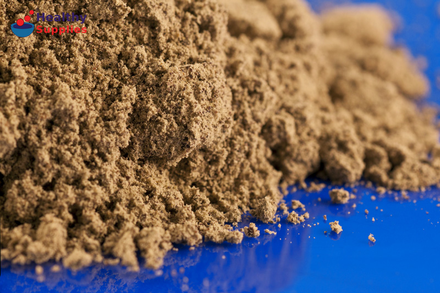 Dark and rich hemp flour.
Organic Hemp Flour 500g (Yorkshire Hemp)
Hemp four is a gluten-free flour, suitable for
baking and other cooking applications
. It can be used to
thicken sauces
, or to augment wheat flour in recipes. You can typically replace 25% of conventional wheat flour with hemp flour in most recipes.
Hemp flour has a nutty taste and dark colour. Because this is a whole-grain hemp flour, it is rougher in texture than standard wheat flour, and very high in fibre.
Hemp is high in omega-3 and omega-6 essential fatty acids, as well as being an excellent source of vitamins and minerals.
This is a wholesome and tasty hemp flour that provides a good way of meeting your dietary needs. It's not just the gluten-free-ness, but also the high protein, omega EFA, vitamin and mineral content.
5 ways to use Hemp Flour
Hemp Bread: Hemp flour is gluten-free, and ideal for boosting the nutritional content of normal bread. A typical mix will contain 1 part hemp flour, 2 parts rice flour and 1 part soy/teff, though as with all gluten-free baking, you will need to experiment for best results!
Protein booster: Mix hemp flour into smoothies and protein drinks. Hemp flour high in protein as well as omega-3, omega-6 and fibre.
Hemp Crackers: Mix hemp flour with flaxseeds and a little water, and blend in a food processor. Roll into sheets and dehydrate to make nutritious, high-fibre crackers!
Hemp Pasta: If you make your own pasta, hemp flour can be added to the mix for extra texture, fibre and nutrition.
As a thickener: Hemp flour can help to thicken sauces, dips and soups.
Ingredients:
100% Hemp Flour.
Organic produce from EU and Non-EU Agriculture
(N.B. The nutritional values below are subject to the natural material fluctuations of a natural product.) For more information on our ingredients policy please see here
Nutritional Information
| Values | per 100g |
| --- | --- |
| Energy | 395kcal |
| Protein | 27.9g |
| Carbohydrates | 50.7g |
| Fibre | 22.0g |
| Fat | 8.9g |
| of which saturated | 10% |
| and mono-unsaturated | 15% |
| and polyunsaturated | 75% |
| of which linoleic fatty acids | 52% |
| linolenic fatty acids | 20% |
| gamma linolenic fatty acids | 3% |
Organic • Guaranteed gluten-free • Vegetarian, Vegan.
Customer Reviews on Trustpilot
Product Recommendations