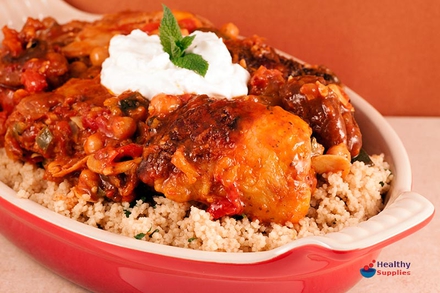 Moroccan Chicken Tagine - Recipe
A simple one pot dish bursting with the authentic flavours of north Africa!
Succulent chicken thighs slow cooked to perfection with honeyed apricots and tangy tomatoes.
This dish is best served with a dollop of fat free yoghurt on a bed of cous cous with a scattering of olives.
We slow cooked our tagine in a slow cooker first before finishing the dish off in an oven. Do not worry if you do not have a slow cooker, this dish can be slow cooked in the oven. Just adjust cooking times accordingly.
This dish serves from between 4-6 people (depending on how hungry you are!)
Ingredients:
---
How to make Moroccan Chicken Tagine:
If you are using a slow cooker adjust the setting to high. If you are using an oven preheat to Gas mark 5/180°C (190°C if you are not a using fan assisted oven).
1) Add all the items into a slow cooker and cook on high for 3 - 4 hours. If you do not own a slow cooker place all ingredients into a large casserole dish and place into the oven. Cook on a medium heat for 2 hours.
2) Serve on a bed of cous cous and a dollop of natural yoghurt!
---
Related Categories

---

Christmas Leftover Inspiration
One Pot Dishes
How To Use Dried Fruit
Slow Cooker Dinners
Customer Reviews on Trustpilot
---