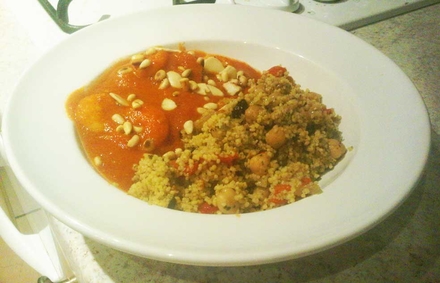 Moroccan Prawns With Moroccan Couscous - Recipe
Recipe contributed by Andy Hunting
Andy is the author of the popular blog Andy's Kitchen which you can visit here: Andy's Kitchen
Ingredients for the Moroccan Couscous:
200g Uncooked Couscous
1 Tablespoon of Raisins
2 Tablespoons of Cooked Chickpeas
2 Teaspoons of Ras El Hanout Spice Mix
1 Tablespoon of Roasted Red Peppers, roughly chopped. Either shop bought or home roasted.
1 Tablespoon of dried Apricots, roughly chopped.
1 Teaspoon of chopped fresh coriander.
1/2 Teaspoon of Cumin Powder
Method:
Cook the couscous as per the instructions on the packet, but add the spices before adding the boiling water, and then I like to cover with a tea cloth for about 5 minutes before fluffing up the couscous with a fork.

Then add all of the above ingredients, and gently mix through. It really could not be easier, and you can experiment by adding lots more flavours and textures, adding lightly toasted flaked almonds and pine nuts are a nice addition.
Ingredients for the Moroccan Prawns:
240 g of prawns, you can use as little or as many prawns as you like, and use whatever type of prawn you wish.
3 Teaspoons of Ras El Hanout Spice Mix
1 Teaspoon of Cumin Powder
400g Chopped Tomato
1 Garlic Clove finely chopped
1 Small Onion finely chopped
Water (half a can)
Seasoning to taste
Lightly toasted Pine Nuts and Flaked Almonds if required.
Method:
Firstly very gently saute the onion and garlic in a little oil, you dont want any colour on these, just nicely softened.

Now add the can of chopped tomatoes, and half fill the can with water, and add that.

Now add the cumin and ras el hanout, and bring to the boil, once at boiling point lower the heat slightly and let the sauce simmer until reaching the consistency that you like.

At this point you can either blitz the sauce so that you have a nice smooth consistency or leave quite chunky, it is entirely up to you. You can now add the prawns, and taste the sauce to adjust the seasoning.

After another couple of minutes the prawns will be nicely cooked through and the dish is now ready to eat, you can sprinkle over some lightly toasted flaked almonds and pine nuts if you wish, and serve with some flat breads.
---
---
Customer Reviews on Trustpilot
---