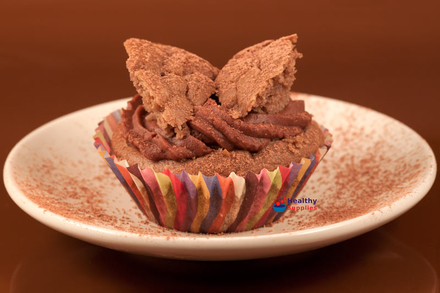 Dainty Fairy Cakes for Adults!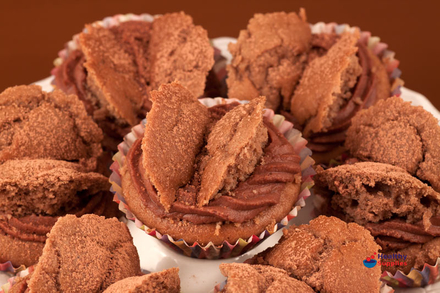 Uses Chestnut Puree rather than traditional icing.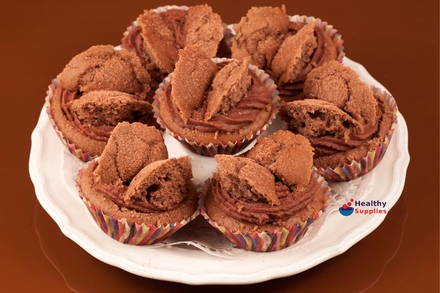 By Caroline Fernandes.
Mocha Butterfly Cakes (Gluten-free)
Dainty Cakes ~ Low Carb, Sugar & Gluten Free
Light, spongy and gluten free.
Uses healthy, low fat Chestnut Puree instead of butter cream icing.
You can control the amount and type of sweetener that this recipe uses.
Bake in around 15 minutes.
Makes 24 Fairy Cakes.
Ingredients (Healthy Supplies)
Other Ingredients
4 large eggs.
200ml cold water.
Method
Pre-heat the oven to 180°c.
Place paper cases into two shallow bun tins.
Add the eggs, oil and water into a deep mixing bowl.
Whisk a little to mix these ingredients.
Shake in the powdered cake mix and whisk until you have a smooth batter mix
Add the coffee extract and transfer the mixture into a batter jug or other large jug.
Slowly pour the batter around two thirds of the way up each of the cake cases.
Place in the middle of the oven for around 10-15minutes or until the cakes spring back slightly when pressed with a finger.
Allow to cool a little before transferring the cakes onto a cooling rack. If you only have one shallow cake tin (like us!) then make up another tray full of cakes and place those in the oven for the same amout of time.
While the cakes are cooling you can make the Mocha filling.
In a large mixing bowl empty both jars of chestnut puree and mash with the back of a spoon of with a fork. Sift in the Cacao Powder.
Then add the Agave Nectar and the Coffee Extract. Mix thoroughly until you have a smooth paste.This mixture can be covered and kept in the fridge until you are ready to 'ice' your fairy cakes.
When the cakes are cool. Take a small paring knife and cut a disc out of the top of each cake. Cut the discs of cake in half and keep next to each cake they came from so that they match.
Pipe or spoon the Chestnut filling into the well of each cake and then arrange the two semi-circles of cake on top of the 'icing' to look like wings.
---
Related Categories

---

Gluten-Free Recipes
Afternoon Tea Inspiration
Cupcakes & Sweet Snacks
Sugar Free Bakes
Customer Reviews on Trustpilot
---