Millet And Sweet Potato Soup - Recipe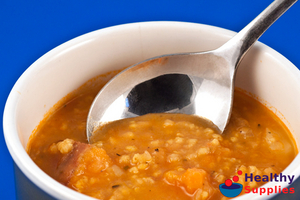 Millet and Sweet Potato Soup
Thick, chunky and filling - perfect with a crusty roll.
This recipe was made by Beccy, a Healthy Supplies staff member.
Millet and Sweet Potato Soup is a scrumptious and comforting winter warmer made from any selection of root vegetables - great if you have the odd carrot or parsnip left over in the fridge.
This particular recipe has been made using millet, sweet potatoes, carrots, parsnip, turnip, herbs and spices. It has a natural sweet flavour, thanks to the carrots and parsnips. Follow the guide below if you'd like to have a go too!
Ingredients:
- 1 cup of
Whole Millet Grains
.
- 2 medium/large Sweet Potatoes (
Chopped into large chunks
)
- 3-4 small/medium Potatoes (
Chopped into small pieces
)
- 2 Carrots (
Grate 1, chop 1 into larger chunks
)
- 1 Turnip (
Chopped roughly
)
- 1 Parsnip (
Chopped
)
- 1 stick of Celery
- ½ Onion
- 1 pt Bouillon/Stock (
We used Marigold Swiss Vegetable Bouillon
)
- 2 Garlic Cloves (
Chopped
) Alternatively,
garlic paste
works just as well.
- 2
Bay Leaf
- 2 tsp
Rosemary
- 3 tsp
Thyme
- A generous squeeze of
Tomato Puree
- A sprinkling of
Sweet Noble Paprika
- Salt/Pepper to season (
We used TRS Ground Black Pepper
)
-
Olive Oil
- 1 Pt Boiling water to top up soup as it cooks.
How to make Millet & Sweet Potato Soup
1) Heat oil in a large sauce pan. Add onion and celery and soften for a moment.
2) Add the grated carrot, chopped carrot, garlic and remaining chopped root vegetables and heat for 2 minutes.
3) Pour the stock into the pan, add the herbs, paprika and tomato puree, and bring to the boil. Once the stock is boiling, reduce the heat and cover pan with the lid. Leave cooking for 15 minutes.
4) Whilst the soup cooks, heat a frying pan (or skillet) and add a tiny drop of oil. Heat the millet for 5 minutes or until the millet goes slightly golden. Once the millet is done, add to the soup and cover for a further 20 minutes. 5) If you prefer a clearer soup, you can add more water if desired. Otherwise, once the soup has cooked, hook out the bay leaves, season with pepper and salt, then you are ready to serve.
This soup serves 4-6 people. It is a very substantial meal, suitable for vegetarians and is suitable for freezing. Remember, you can try this with any vegetable you choose - it's so easy!
---
Related Categories

---

Gluten-Free Recipes
Soup Recipes
One Pot Dishes
How To Use Millet
Soup Inspiration
Customer Reviews on Trustpilot
---