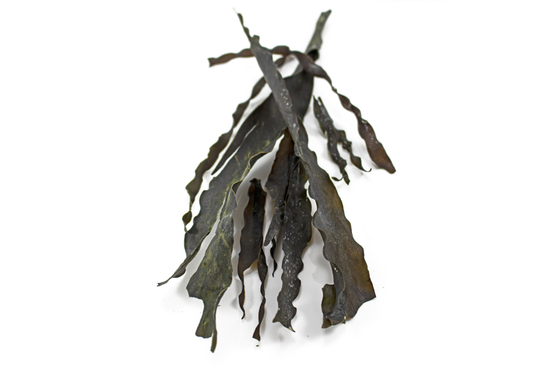 Last Batch 99864 Produced on Mon 8 Nov 2021 12:04. Best before End Jun 2023. Organic produce of Ireland. Packed in the UK.
Organic Kombu Seaweed 100g (Sussex Wholefoods)
Kombu Seaweed - Whole Leaf
Also known as oarweed, tangle kelp, sea ribbon, leathrach coirrleach.
Rich in umami - the fifth human taste – which subtly enhances other ingredients.
A savoury, sea flavour with hints of smoke.
Rich in Vitamins and Minerals: B1, B2, B3, B12, Iron, Potassium, Iodine, Calcium.
Good source of protein and fibre.
Contains Fucoidan which protects from radiation.
Can regulate thyroid & aid digestion.
Draws out heavy metals from the body.
PREPARATION: To rehydrate: Soak in cold water for up to 10 minutes. Use the soaking water to flavour dishes.
COOKING INSTRUCTIONS: Can be used dry (wipe gently before use), fresh (or rehydrated) or cooked (simmer for up to 40 minutes).
Pickling: Adding fresh or dried kombu to vegetables while pickling them gives a pleasant depth and savouriness to the finished dish. Pickled kombu can be used in tartare sauce. Boiled or steamed, it can be served as a side vegetable or added to stews, soups and casseroles. You can also wrap fish or chicken in rehydrated kombu and bake or steam for a rich, succulent finish. Stir-fry rehydrated kombu with meat or vegetables; it can also be added to beefburgers or meatballs, and goes well with beef, chicken, seafood, smoked fish, pulses, vinegar, dried mushrooms and rice.
You might also like to try...
Ingredients:
Kombu (Laminaria Digitata).
For more information on our ingredients policy please see here
Organic • Vegetarian, Vegan. Packed in a factory that also handles nuts, soya, sesame, eggs, milk, mustard, celery, wheat and gluten.
Customer Reviews on Trustpilot