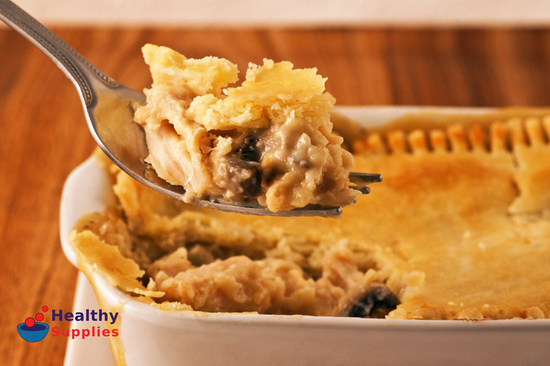 In memory of Hilary Nelson, who lovingly created this wonderful recipe.
Chicken and Mushroom Pie (Gluten Free) - Recipe
This chicken and mushroom pie is made with a delicious, golden gluten free pastry, chunky pieces of tender chicken with a smooth and creamy garlic sauce.
Ingredients:
‐ 3 chicken breasts, chopped into pieces. ‐ 6 mushrooms (sliced) ‐ 2 onions (chopped into fine pieces) ‐ 2 garlic cloves (crushed) ‐ 200ml Milk ‐ 3 tbsp plain gluten free flour ‐ 2 chicken stock cubes ‐ 150g Butter
‐ 200g
Plain White Flour
‐ 100g Butter ‐ 3 tbsps Cold Water
---
Method:
Before you begin making the pie, have your pastry made and ready to use...
1) Melt the butter in a large frying pan on a medium heat. Cook the onions until softened and then add the chicken and garlic. Cook until the chicken is white. 2) Sift in the flour and stir so all the mixture is coated. 3) Gradually add the milk stirring continuously so the flour and milk combine to create a creamy sauce. 4) Add the mushrooms and crumble the stock cubes into the mixture. Stir well. Season with sauce and pepper and allow to simmer for a few minutes. (If the sauce becomes too gloopy add more milk). 5) Pour into an oven-proof dish and gently cover with pastry. Pinch the pastry to the side of the dish and baste with egg yolk. Ensure the top is pierced to allow hot air to circulate whilst cooking. 6) Bake for 30 minutes until the pastry is nice and golden.
---
Customer Reviews on Trustpilot