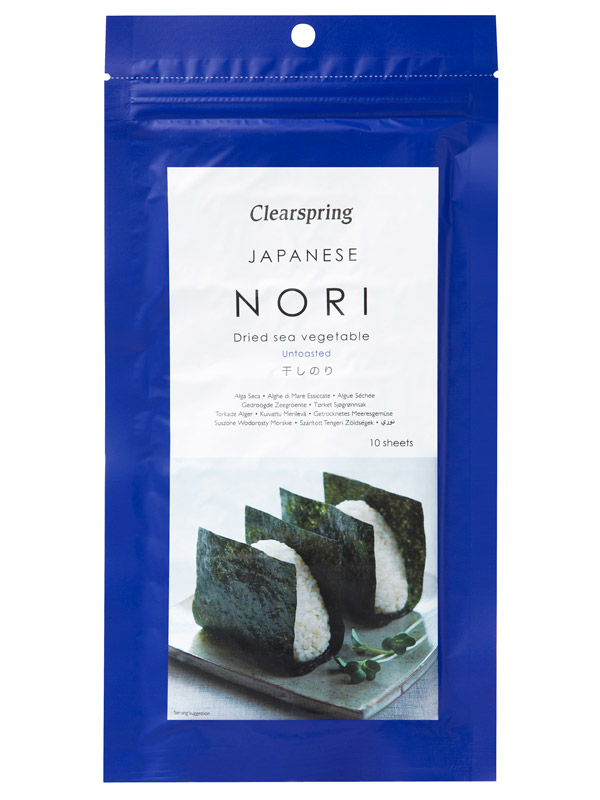 Clearspring Nori Sea Vegetable Hoshi Sheets Untoasted/Folded 25g
hoshi nori in Japan. It comes in this pack of 10 sheets that you can cut into shape depending on your application (the sheets are folded within the pack, but can easily be un-folded as nori is quite flexible).
We think that this product makes a great alternative to bread-wraps. You can use it in place of the bread. In this way, you can wrap chicken, salad, fish or indeed anything else that one would put in a wrap. Nori is incredibly low in calories and highly nutritious, as well as having a nice flavour.
Nori, like almost all seaweed, is high in minerals, protein and fibre, and very popular in Japan. In fact, Nori is the most popular form of seaweed in Japan.
These Nori sheets are the "untoasted" type. Some people toast them before use, though it's not absolutely necessary. Toasting is performed by holding the nori sheet over a gas flame or other heat source (an electric cooker ring works fine). Heat until they turn green. Note that they remain reasonably flexible when toasted. If you want to buy toasted nori sheets, please see our toasted nori sheets. Toasted nori is slightly less chewy but slightly more brittle - the choice is yours! We prefer this type - the untoasted nori - because it is slightly more flexible.
Serving Suggestion
Nori wrap with tofu and beansprouts
.
Nutritional Information
| Typical Values | per 100g | per sheet |
| --- | --- | --- |
| Energy (kcal) | 311 | 8 |
| Protein | 47g | 1.2g |
| Carbohydrates | 2.7g | <0.1g |
| of which sugars | 1.7g | trace |
| Fibre | 34g | 1.0g |
| Salt | 0.97g | 0.02g |
Japanese Nori (species Porphrya tenera, cultivated and dried in Japan) - no other ingredients.
| Typical Values | per 100g | per sheet |
| --- | --- | --- |
| Energy (kcal) | 311 | 8 |
| Protein | 47g | 1.2g |
| Carbohydrates | 2.7g | <0.1g |
| of which sugars | 1.7g | trace |
| Fibre | 34g | 1.0g |
| Salt | 0.97g | 0.02g |
Customer Reviews on Trustpilot