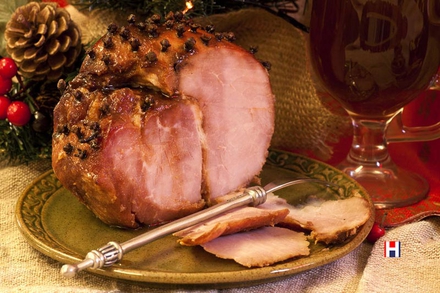 Honey Glazed Gammon - Recipe
Traditional Christmas and Boxing Day Roast.
Creates a sweet glaze which compliments the meat.
A great alternative to turkey.
Makes a great roast anytime of year.
Other Ingredients
2-3kg Gammon Joint, uncooked.
Method
The night before you want to roast the joint place the gammon into a bowl. Cover with cold water and place in the refrigerator to soak overnight or for around 12 hours. This removes any excess salt from the meat.
Mix the ingredients for the glaze together in a bowl and leave to one side.
Remove the joint from the water and rinse in cold water. Place into a pan of boiling water, cover and bring to a simmer. Then simmer for 1 hour.
Then pre-heat the oven to 200°c/180°c Fan/Gas Mark 4.
Carefully remove the meat from the water and place on a solid surface. Remove any thick pieces of fat and just leave a thin, even layer on the top of the gammon.
Using a sharp skewer, poke holes in a diagonal fashion across the top surface of the gammon. Using these holes as a guideline, stud the top of the gammon with cloves. Pour over the pre-made glaze.
Roast for approximately 50-60 minutes depending on the size of your joint. Whilst roasting, spoon the glaze that has melted onto the base of the pan onto the top of the joint to ensure a lovely caramelised finish.
If the top of the gammon looks like it is becoming burnt gently wrap the top with foil. Test the finished meat with a skewer to check it is piping hot inside.
---
Related Categories

---

Essential Christmas Recipes
Savoury Christmas Dishes
One Pot Dishes
Customer Reviews on Trustpilot
---