---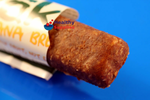 Fruit bars are high in fibre, but most of the snack bars available in the shops also seem to be high in sugar. We sell zero-sugar fruit bars for extra health.
More Info >
---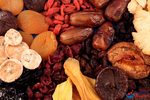 Dried fruit is high in fibre. In particular, figs and prunes are renowned for their fibre-rich qualities. More Info >
---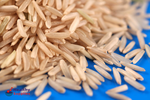 White rice has been processed and polished until none of the husk remains. Unfortunately, with the husk goes a large amount of the fibre, as well as many essential vitamins and minerals. Buy high-fibre brown rice for the full goodness of whole-grain rice.
More Info >
---
The wheat used in wholegrain pasta is far higher in fibre than the highly refined flour used in white pasta. Furthermore, wholegrain pasta absorbs flavours far more effectively than white pasta.
More Info >
---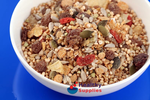 Muesli is a great way to start the day, and a great way to get your digestive system working with a healthy dose of fibre.
More Info >
---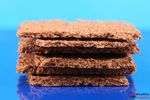 Bran is a high-fibre food. It consists of the husks of a grain such as oats or wheat, and is actually quite nutrient-rich, containing protein, vitamins and minerals as well as fibre.
More Info >
---
Baobab is a fantastic way of adding fibre and vitamin C to the diet. It's over 50% fibre, and is convenient to use in its powdered form shown here. It has a sweet taste, so is great for stirring into drinks.
More Info >
---
---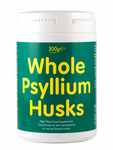 Psyllium husks are a great source of soluble fibre, and will help to regulate your "motions" whether they are too slow or too fast. They are zero-calorie and zero-carb, and almost 100% fibre. Mix into a drink for an excellent kick-start to your digestive system.
More Info >
Customer Reviews on Trustpilot
Product Recommendations
---