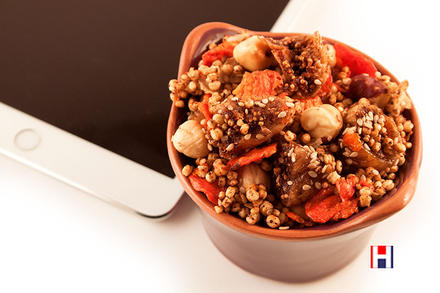 Puffed quinoa provides the base for this scrummy snack!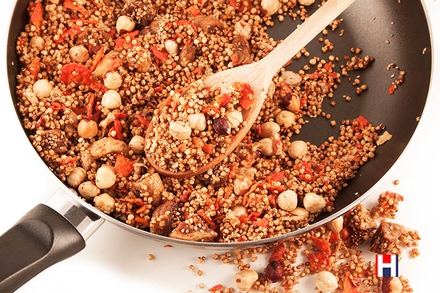 Pumpkin is naturally sweet, and adds extra crunch, colour and vitamins.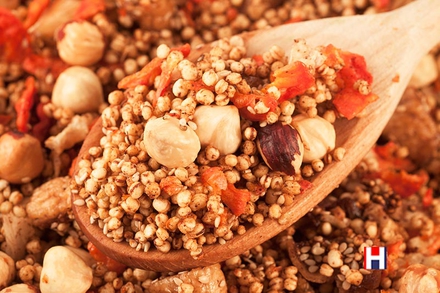 Happy Hazelnut Snack Crumble - Recipe
A substantial granola-style mix.
High in fibre and a good source of protein
No baking, just make on the hob.
Eat as a snack or as a breakfast cereal.
Makes around 450g of sprinkle.
Ingredients (Healthy Supplies)
Method
Warm the rapeseed oil in a deep non-stick frying pan. Add the puffed quinoa, figs and sesame seeds. Heat gently and coat the ingredients in the oil.
Sprinkle over the cinnamon powder and stir. Then add the roasted hazelnuts.
Gradually coat all the ingredients. Keep the heat low, but steady. Taste carefully as the quinoa will be hot.
Stir in the coconut syrup or omit this if you feel the mix is sweet enough.
Remove from the heat and transfer the mixture into a heat proof dish.
Open the packet of Pumpkin Crisps just a little way to allow the air out. Then crush the crisps inside the packet between your hands.
Sprinkle the pieces of pumpkin crisps over the cooling crumble and stir in. Allow to completely cool before storing in an airtight container
Your snack, sprinkle or breakfast munch is now ready!
---
Related Categories

---

Breakfast Bars & Snacks
Muesli & Granola Recipes
Healthy Recipes and Articles
Customer Reviews on Trustpilot
---