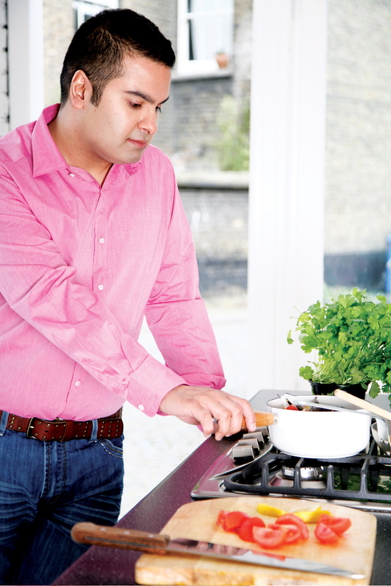 Gurpareet Bains answers our questions.
In The Spotlight: Gurpareet Bains
January 2012
This month we chat to the brilliant Gurpareet Bains. Author of the number one selling cookery book "Indian Superfood" and highly anticipated "Indian Superspices", released on January 9th 2012.
Gurpareet answers our quick-fire questions and tells us about his culinary loves, hates as well as his famous dish that has been named the "Healthiest Dish in the World".
Gurpareet Bains' star is on the rise, his celebrity fans include the Duke and Duchess of Cambridge, Vivenne Westwood and Madonna. With his unique take to cooking and his mission to achieve health through cooking it is no wonder that he was recently awarded the coverted "Chef of the Year" award in the English Curry Awards 2011.
Sweet or Savoury?
Savoury. I must first have my spicy and chilli foods before I get to the chocolate!
Favourite dish ?
Chicken with Cinnamon and Blueberries, with Goji Berry Pilau (world's healthiest meal) - see here - it is my favourite meal, chicken curry and rice made into the healthiest meal. Can't complain!
Item in your kitchen you could not live without ?
Food Processor - stick all those onions in them!
Favourite cook book ?
Sydney Food, Bill Granger
Who influences you in your work?
The people I write for. I write to make a positive impact in readers' lives.
Favourite Healthy Supplies ingredient?
Sea Salad - it is so hard to find anywhere else!
What made you take an interest in cooking?
I had no choice. I moved overseas and Mum wasn't around. But then again I was cooking from a young age, even at home. So the interest was always there.
What flavours inspire you?
Eastern spices combined together with fresh produce.
If you were feeling lazy, what dish would you cook?
I'm always feeling lazy in the kitchen, so any of my recipes - They're all easy! But if I'm feeling extra lazy, I just eat out!
And finally what is the best piece of advice for new cooks?
Never give up and never give in! Start with easy recipes and cook books first!
---
Customer Reviews on Trustpilot
---