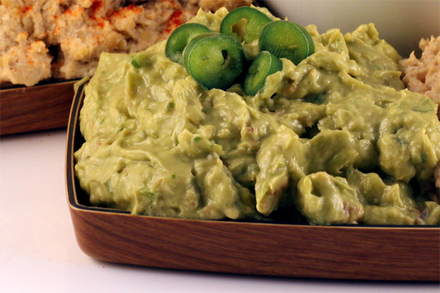 Guacamole Avocado Dip - Recipe
Guacamole is a cool, thick and succulent dip made using fresh avocado, onion, spice and tomato. It is a popular Mexican side dish, often partnered with burritos, nachos and breads. It's distinctive flavour, smooth texture and vivid green and red colours make it a delicious and exciting accompaniment to Mediterranean cuisine too.
Guacamole can be made to the consistency of your choice, from super smooth to big and chunky.
To make this guacamole, you will need:
- 2 small ripe tomatoes br>- 1 soft avocado
- 1 - 3 tbsp
lime juice
- Chopped fresh coriander
- 1 small red onion, finely shopped
- 1 chopped green chilli
-
Salt and Pepper
to season
---
How To Make
1) Chop up the tomato and put in a bowl. Halve the avocado and remove the stone (but keep it). Scoop out the avocado flesh and add to the tomato.
2) Add the lime juice, coriander, onion and chilli and season with salt and pepper.
3) Beat the ingredients with a whisk or spoon to mix up the flavours. If you want a really smooth mixture, you could quickly blitz with a hand blender.
4) Serve with coriander leaves to decorate. (If you are having it later, put the avocado stone in with the guacamole. This amazingly stops the avocado going brown).
(Some variations of guacamole incorporate garlic, which you could do if you choose, for a more intense flavour).
---
Related Categories

---

Sauces, Marinades, Dips & Spreads
Dips And Salsa
Sauces, Condiments & Dips
Customer Reviews on Trustpilot
---