A simple ingredient for porridge and puddings.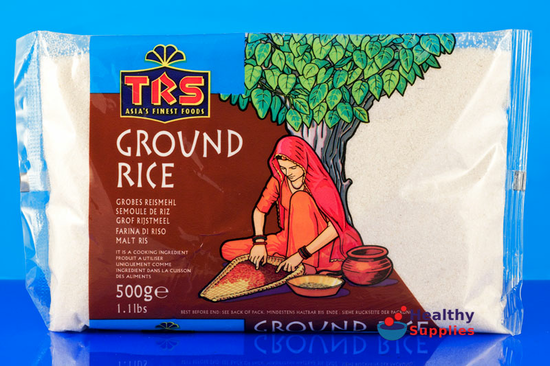 TRS Ground Rice 500g
Rather like a rice-based semolina...
For making smooth rice pudding.
Popular with small children.
Can also be used as an alternative to semolina.
Can also be used to make porridge.
This ground white rice is a coarse rice flour, much like a rice version of semolina. Use ground rice as a cooking ingredient in puddings, cakes and breads.
Directions
Ground rice is popular in pudding dishes, particularly as an alternative to semolina for those who do not eat wheat. Cook ground rice by boiling it in a pan with 2 or 3 of inches of water to cover it. Allow the rice to reduce to a thick consistency. Mix with milk (according to taste) and reduce. It is commonly used as a form of smooth rice pudding.
Rice pudding made from ground rice is often fed to babies, or people who don't have any teeth.
What is the difference between ground rice and rice flour?
Ground rice is coarse and is usually boiled into a pudding, whereas
rice flour
is finer and usually made into rice bread. The coarser texture of the ground rice makes it more suitable for boiling, whereas rice flour would go a bit too sticky and clumpy.
Ingredients:
Ground Rice.
For more information on our ingredients policy please see here
Nutritional Information
| Typical Values | Per 100g |
| --- | --- |
| Energy | 335 calories |
| Protein | 8.2g |
| Fat | 2g |
| Carbohydrates | 75.9g |
| Dietary Fibre | 2g |
Vegetarian, Vegan.
Customer Reviews on Trustpilot
Product Recommendations