10 Grain-Free Recipes That Seem Surprisingly Normal!
Although grains are a staple part of our diet, it is perfectly possible to cook without them and still make regular, tasty food. Here is some inspiration - including these almond and date brownies, flaxseed bread, lemon and poppy seed pancakes and almond and tapioca pizza!
---
Brownies made from nuts and dates - including almonds, walnuts, and these incredible Sukkari Dates, which are a cut above the rest! Flavoured with raw cacao powder, maca, vanilla and coffee, and sweetened with a little coconut sugar.
---
Made with almond flour and tapioca. The base holds together really well (thanks to the tapioca) and the pizza is crispy and convincing. It tastes exactly like a regular pizza! Ideal for those going gluten-free.
---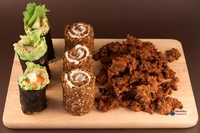 Four inspiring recipes including Savoury Kale Nuggets, Pizza Flax Raw Bread, Vegan Herby Cream Cheese and Avocado & Coriander Houmous.
---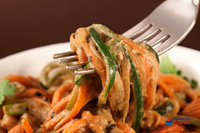 These noodles are made from courgette and carrot! Cut into thin strips with a standard Julienne slicer, and stir-fried along with Thai spices, coconut milk, nut butter and black sesame seeds. Yum!
---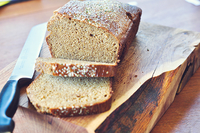 Made from coconut, flax, almond and eggs. The eggs are important because they hold the whole thing together, but you can also use tapioca flour or another binder.
---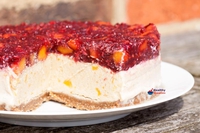 This cheesecake is not made using cheese! Instead, cashew nuts are soaked and pureed. It is really delicious. The base is made from nuts, seeds and dates.
---
They are chocolatey, and made from nuts, seeds, dates and nut butter. No cooking required: 5 minutes to make! (Although you need to refrigerate them for a few hours, for best results).
---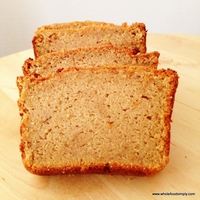 Bread made from sweet potato, coconut flour and coconut milk. Again, this is held together using eggs, but tapioca (flour) is an acceptable substitute.
---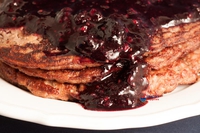 Made from almond flour and sunflower seeds, and sweetened with lucuma and a little honey. With poppy seeds.
---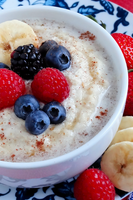 Why should porridge always contain oats or some other grain? This porridge is made using desiccated coconut, almond meal and flax. Cooked in almond milk.
---
Customer Reviews on Trustpilot
---