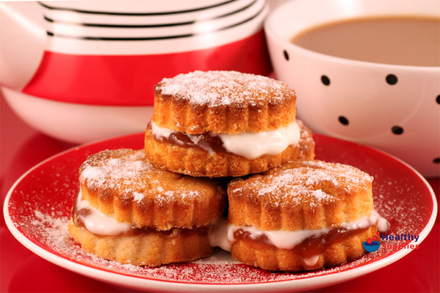 Gluten Free Scones - Recipe
Gluten-free version of this Classic English Tea-cake
These scones are gluten-free and can be made fully dairy-free if you substitute the milk yoghurt for soya yoghurt. The mix is incredibly quick to pull together and the use of Xanthan Gum to bind everything together and should help you to form a very satisfying pastry ball. We found that the mixture rose just a little, so allow for this when deciding how tall you would like the final scones to be. This mix makes approximately 12 tall/large scones or 18 small/shallow scones. The inclusion of Yoghurt helps to keep these cakes nice and moist (we slightly over baked ours!)
You can serve with the classic Strawberry Jam and low-fat Creme Fraiche or swap for your favourite Conserve such as Raspberry or Morello Cherry. For a dairy-free serving suggestion, why not substitute the Creme Fraiche for Vanilla flavoured Soya Yoghurt, but do bear in mind that these normally contain sugar.
Ingredients:
For serving
small pot of low-fat Creme Fraiche
---
How to Make the Scones
1)
Pre-heat oven to 200°C/Fan 180°C/Gas Mark 5 or 6.
2)
In a large bowl, mix together the rice flour, xanthan gum, baking powder and either Coconut Sugar or Xylitol.
3) Rub the coconut oil into the flour.
4) Stir in the yoghurt and bring together into a soft dough.
5) Turn out onto a floured surface and gently roll into a 2cm/1 inch thick round.
6) Cut into approximately 5cm/2inch rounds (we used the crinkle-cut end for prettiness).
7) Place each scone on a greased baking tray. Then brush the top of each scone with a little water.
8) Place in the oven for 15-20 minutes. Check after 12 minutes or to see if the tops are beginning to turn golden brown. If not leave for a further 5 minutes and check again.
9) Remove from the oven and allow to cool for 5 minutes before transferring onto a wire cooling rack. You can enjoy the scones warm or cold.
10) Cut each scone in half, spread a little of your favourite jam on the bottom half and then spoon a little Creme Fraiche on top of the jam. Pop the top half of the scone back on, gently squeeze. Then eat!
---
Related Categories

---

Afternoon Tea Inspiration
Cake & Biscuit Recipes
Cookies & Biscuits
Customer Reviews on Trustpilot
---