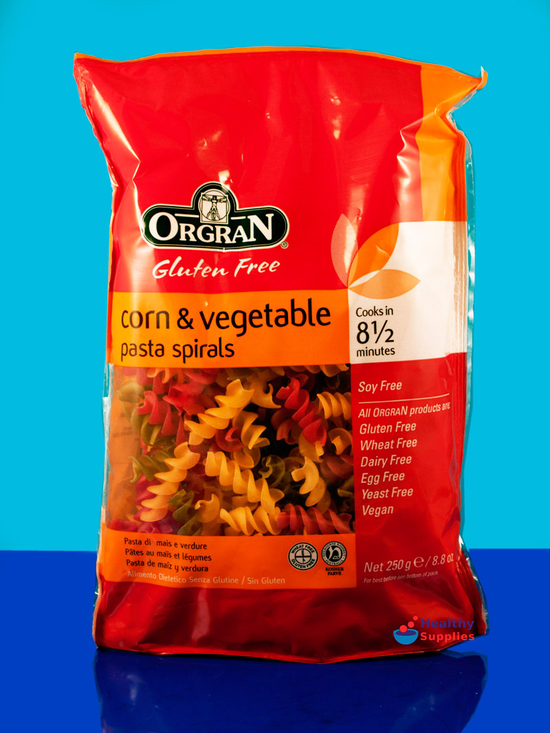 Orgran Corn & Vegetable Pasta is
Spirals, Corn & Vegetable 250g (Orgran, Gluten Free Pasta)
Gluten-Free Corn & Vegetable Pasta
Gluten free pasta made from Maize Meal, Spinach and Beetroot.
Naturally high in nutrients and easy to digest..
Free from artificial colours, flavours and preservatives.
Gluten and Wheat free, Dairy Free, Egg and Animal derivative free.
Nutritional Pasta
The Corn and Vegetable Spirals by Orgran are prepared in an environment dedicated to producing the highest quality and purity of natural foods. The unique processes used to create the pasta encompasses traditional methods to retain the delicate natural flavour of the grains as well as the naturally occurring nutrients.
The maize meal, rice, spinach and beetroot mean the spirals are easier to digest in comparison to wheat pasta. They also assist with the necessary nutrition and variation essential for a well balanced diet and well being.
Directions
Pour pasta into boiling water (Approximately 4 litres for every 250g pasta)

Stir constantly for up to 10 minutes max.
Strain & rinse under warm water.
1 pack serves 4 people.
Ingredients:
Maize Meal, Rice, Spinach, Beetroot, Water.
For more information on our ingredients policy please see here
Cereals grown under a strict controlled wheat & gluten free environment. Also free from dairy & animal produce.
Guaranteed gluten-free • Vegetarian, Vegan.
Customer Reviews on Trustpilot
Product Recommendations