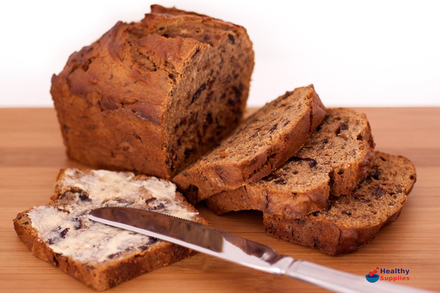 Everyone can enjoy a slice of gluten-free malt loaf!
Gluten-Free Malt Loaf - Recipe
---
1) Preheat the oven to 170°c/ Fan 160°c/ Gas Mark 3. 2) Grease and line two medium bread tins - ours measured approximately 15cm x 10cm/6inch by 4inch at the widest part. 3) Put the fruit, butter, agave syrup and water into a saucepan and bring to the boil. Simmer for 5 minutes, then allow to cool a little. 4) Sift the flour, then add bicarbonate of soda, salt and sugar into a large bowl or straight into a food processor. Stir/blend. 5) Pour in the warm fruit mixture and then add the beaten eggs. Mix well. 6) Transfer the mixture evenly between the two tins. Then spread the mixture evenly within each tin. To produce a flatter, less domed loaf, make a well in the centre of the loaf mix. 7) Bake in the centre of the oven for 30 minutes. Then check and cover with foil and bake for a further 30-40 minutes. 8) Remove from the oven and allow to cool slightly. Turn the tins upside-down and gently tap the base of each tin to release each loaf. 9) Serve warm with a little butter, coconut butter or vegetable spread. Stores well in an airtight container or in the fridge for 3-5 days.
---
Related Categories

---

Gluten-Free Recipes
Bread & Roll Recipes
How To Make Gluten-Free Bread
Gluten-Free Cakes
Customer Reviews on Trustpilot
---