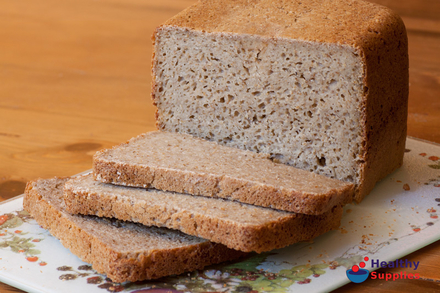 Gluten Free Brown Bread - Recipe
Gluten Free Brown Loaf
Easy to bake wheat and gluten free brown bread. This simple recipe has been provided courtesy of Doves Farm and can be oven baked or machine baked. The method we used here was in the bread machine.
All you need is...
How to Make
Machine Baked:
Weigh the milk into a bowl. Beat in the vinegar, oil, eggs and pour into the bread pan.
Sift the flour and add it to the wet mixture. Stir it in with the salt and sugar. Mix well with a spoon.
Sprinkle the yeast onto the top of the mixture, close the lid on your bread machine and start it on your normal bread making setting. (you might need to scrape down the sides after 5 minutes to ensure all the ingredients are mixing).
Oven Baked:
Please note that quantities are different for oven baked bread - recipe is on the flour packet.
Mix the flour, salt, yeast and sugar.
In a separate large bowl, beat warm milk, vinegar and eggs, then add the flour to make a sticky dough.
As you mix the dough, start pouring in the oil.
Place the dough in a 1kg bread tin, cover and leave to rise for an hour.
Bake in the oven for 40/45 minutes.
---
Related Categories

---

Gluten-Free Recipes
Bread & Roll Recipes
How To Make Gluten-Free Bread
How To Use Gluten-Free Flour
Customer Reviews on Trustpilot
---