Top Ten...uses for Ginger
Each month we and our Healthy Supplies friends discuss the top ten ways to use one of our ingredients. This month we are looking at
ginger
. We asked the Healthy Supplies team, bloggers
Andy Hunting
and
Elaine Livingstone
, and TV nutritionist
Charlotte Watts
.
This month we are looking at the top ten uses for ginger. Rather than looking at fresh ginger, we are pushing the boat out and investigating the uses of powdered, stem, crystallised and paste!
Make a fiery base for a lime and blueberry cheesecake by sprinkling four teaspoons of ginger powder into the biscuit base mixture. – Gary Lurcock, Chef.

Add some stem ginger to your green tea for a refreshing drink! - Andy Hunting, Owner of Andy's kitchen.

Sprinkle grated stem ginger into your ice cream machine to make soya and ginger ice cream. – Elaine Livingstone, creator of "Fun as a gran" blog.

Ginger paste is great in curries: add one spoonful of ginger paste to the pan, together with one freshly chopped onion, garlic paste and a teaspoon of whole garam masala. Fry until golden brown, then add meat (e.g. chicken), fry the meat until browned, then add tomato powder, water, more garam masala/ras el hanout, and chilli flakes. Simmer and serve with rice. – Brendan Fernandes, Owner of Healthy Supplies.

Ginger is a key part in oriental cuisine; stir fry fresh red chillies, ginger paste, spring onions and garlic paste in a wok and add fish like sea bream to make a mouth-watering dish! – Tina Manahai-Mahai.

Add some of the syrup from the stem ginger to soya custard to make a delicious creamy accompaniment to puddings. – Elaine Livingstone, creator of "Fun as a gran" blog.

Chop a cube of crystallised ginger up and add to your muesli for a high energy boost. - Tina Manahai-Mahai.

Add some ginger paste to soya salt and mix to make a delicious dip. - Andy Hunting, Owner of Andy's kitchen.

Sushi ginger, soy sauce, wasabi paste and sushi = perfection. – Tina Manahai-Mahai.

Some people believe that ginger can aid the feeling of nausea, adding stem ginger to tonic water with lemon juice makes a soothing and refreshing beverage.
Nutritional benefits of ginger
Charlotte Watts, author of
The De-Stress Diet
, offers the following advice:
Related to turmeric and cardamom, ginger has been used in Traditional Chinese Medicine for 2,500 years; it is a sialagogue - making swallowing easier by stimulating saliva production.
Ginger has a well-earned reputation for increasing circulation, thinning blood and anti-inflammatory action for youthful heart, joint and brain health.
Ginger, mint, turmeric and other herb leaves and spices contain volatile oils that give them their pungent smells and have a calmative effect on the gut. Add herbs liberally to salads, and make fresh herb and spice teas rather than sugary soft drinks to lower your sugar intake.
Ginger is a Thermogenic Food which helps to heat the body and increase the metabolism alongside exercise and lower temperatures.
Start each morning with a liver flush – juice of one grapefruit and one lemon, 2 tablespoons extra-virgin olive oil, 1 crushed clove garlic, 1 inch ginger root, grated – mix and drink down 15 minutes before breakfast. This can be done for just 1 week for good results. Mix the night before and keep in the fridge.
Start the day with the juice of half a lemon in hot water to wake up your liver and digestion in a clean, healthy way. Drink this about 20 minutes before breakfast – you can also add slices of fresh ginger to warm up or calm the digestion, and/or cinnamon to sweeten and improve blood-sugar balance.
---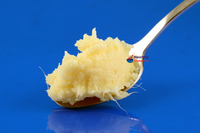 Buy ginger from our online shop in the form of paste, crystallised ginger, stem ginger or ginger powder. More Info >
---
Customer Reviews on Trustpilot