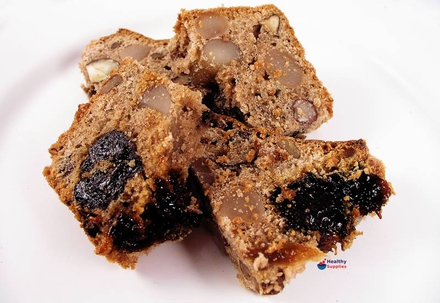 A fruity, nutty loaf!
Fruit and Nut Loaf
This is a wholesome cake with generous helpings of fruit and nuts!
Other Ingredients
Method
Pre-heat an oven to 180°C.
Soak the nuts in boiling water for 10 minutes.
Lightly beat the eggs and the sugar together in a large bowl.
Blend in the flour, coconut butter, baking powder and vanilla paste.
Drain the nuts and add them to the mix.
Mix thoroughly.
Coat a baking tin with flour and spoon in the mixture.
Bake for 50-55 minutes until golden brown.
The resulting cake is soft and fruity. By soaking the nuts, they are soft enough to slice through (as can be seen in the photo).
---
Related Categories

---

Cake & Biscuit Recipes
Cookies & Biscuits
How To Use Walnuts
Customer Reviews on Trustpilot
---